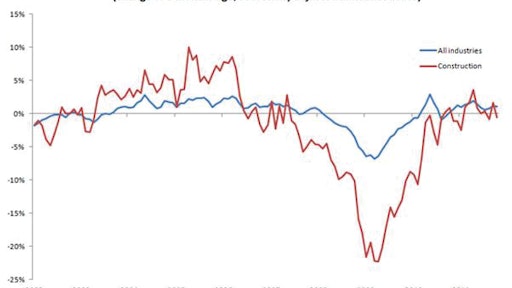 The November U.S. Department of Labor jobs report was good news for the economy and even better for housing: unemployment among 25-34-year-olds fell to 9.2%, and quarterly job growth in "clobbered cities" was strong at 1.9% (annualized rate). However, construction employment slipped.
Economic recovery is essential for housing demand to pick up. But these three indicators in the monthly jobs report tell us whether the recovery in housing demand is underway, approaching or still far off.
Construction jobs are at the heart of what is either a virtuous or vicious cycle that connects jobs and housing. Housing demand leads to more jobs in construction and related industries, and more jobs means more income and housing demand.
In November, construction employment fell month-over-month and grew just 0.3% versus three months ago, compared with total employment growth of 1.3% (seasonally adjusted annualized rates). Total employment is up 1.9% from its recession low, but construction employment is up just 0.8% from its bottom in January 2011 (cumulative rates). Construction employment still has a lot of catching up to do to get back even to its pre-boom share of overall jobs.
(More on jobs driving housing demand . . . )