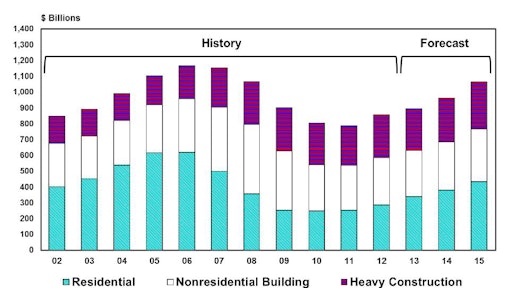 Despite the shadow of the federal government shutdown and plateaued growth in the housing market, construction economists predict 2013 will be a growth year for the industry and expect 2014 and 2015 results to be much stronger.
Construction Starts Climb 13% in September
Reed Construction Data hosted an economic summit last week in a webinar called "The 2014 Outlook: Emerging Opportunities for Construction." Guest presenters included Kermit Baker, chief economist at the American Institute of Architects; Ken Simonson, chief economist at AGC of America; and Bernard Markstein, U.S. chief economist with Reed Construction Data.
The presenters agree that spending in select construction segments should accelerate through 2015, with enduring housing-market growth, real recovery in commercial construction, and power and transportation (mostly private) spending forecast to lift overall construction spending.
Residential Construction Spending Hits Highest Level Since August 2008
Markstein calls current economic growth "barely acceptable." He estimates the U.S. government's shutdown will inflict a half-percent penalty on fourth-quarter GDP growth. The housing-start growth rate so energetic in 2012 has leveled off, thanks in large part to economic uncertainty suppressing household formation.
But the U.S. economy remains so far short of its capacity of 1.6-to-1.8-million annual starts that the consensus forecasts of nine housing-industry watchers (Fannie Mae and Freddie Mac, Moodies, NAHB, etc.) assembled by the American Institute of Architects is for 22 percent growth in 2013 to 950,000 starts. The AIA consensus forecast for 2014 is 28 percent growth to 1.22 million starts, and 29 percent growth in 2015 to 1.57 million starts.
Housing growth undergirds construction for the next two years. But the steepest growth rate in AIA's Architecture Billings Index, which signals construction demand about 18 months in advance, is in the commercial/industrial segment.
The AGC's chief economist, Ken Simonson, forecasts 5- to 10-percent 2013 growth in private nonresidential spending (compared to 16 percent in 2012), with more manufacturing, warehouse, data centers; remodels of hotels, office, retail; and flat power, health care, private education.
Simonson expects total construction to grow at 6 to 10 percent per year in 2014 and 2015, lead by increased private spending on warehousing and transportation related to expanding ports to accept bigger ships coming through the enlarged Panama Canal. He also looks for increased spending in energy development, pipelines and processing to support the shale energy boom.
Simonson points out, though, that federal spending has declined for two years in a row (the first time that's happened since Korean War), and will decline more steeply in 2014. The assembled panelists agree that government spending on schools and infrastructure will continue to decline.
No return in Retail construction is not expected to recover, as consumer spending remains tepid and shoppers turn to more online buying. Again, Simonson points out that employers are shrinking office space per employee and divesting themselves of file storage space, telephone switching, and other once-space-consuming functions that can now be accessed from the internet.
Construction CFO Confidence Dips Again in Q3
But the current trajectory and architectural activity in housing, commercial/industrial buildings and key segments of heavy construction signal high-single-digit growth in total 2014 construction.