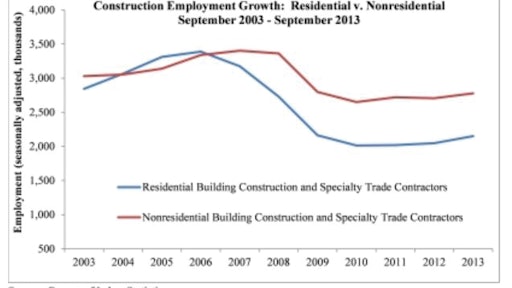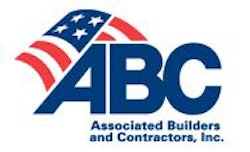 Overall national construction employment rose by 20,000 jobs in September, with nonresidential construction employment gaining 12,000 positions, according to an October 22 report by the Department of Labor. The national construction unemployment rate stood at 8.5 percent in September on a non-seasonally adjusted basis, down from 9.1 percent in August and 11.9 percent at the same time last year.
Since September 2012, the construction industry has added 193,000 jobs, or 3.4 percent. Of that total, 37 percent is attributable to nonresidential activities, down from 42 percent in August 2013.
"After a five-month losing streak, nonresidential employment bounced back in September," said Associated Builders and Contractors (ABC) Chief Economist Anirban Basu. "Every major segment of nonresidential construction exhibited job growth, including nonresidential specialty trade contractors, which accounted for roughly one-third of jobs added by the sector."
Construction Industry Unemployment Rate Hits Six-Year Low
Following are segments of construction employment that exhibited growth:
Nonresidential construction employment rose by 5,200 jobs for the month and is up 23,400 jobs, or 3.5 percent, since September 2012.
Residential building construction employment grew by 1,200 jobs last month, which is a positive sign after the sector lost 600 jobs in August.
Nonresidential specialty trade contractors gained 6,800 jobs for the month and employment is 2.3 percent (48,000 jobs) higher than at the same time last year.
Residential specialty trade contractors added 4,100 jobs in September and have added 88,600 jobs, or 6 percent, compared to September 2012.
Employment for heavy and civil engineering construction was up by 2,500 jobs for the month and is up by 18,600 jobs, or 2.1 percent, on a year-over-year basis.
"Heavy and civil engineering construction employment experienced expansion in September, a factor that is often viewed as a leading economic indicator for the nonresidential construction industry," Basu said. "Indeed, there appears to be a significant level of pent-up demand for new construction. Four years of economic recovery have transpired, gradually improving real estate and financing conditions. Construction materials prices have been generally well behaved and leading indicators, such as the Architecture Billings Index and ABC's Construction Backlog Indicator, also have turned positive.
"The coming year should be associated with high single-digit growth in nonresidential construction spending, with the implication being that the industry will continue to add jobs," Basu said. "Still, there is likely enough uncertainty emanating from Washington D.C., and other places to prevent a dramatic turnaround in nonresidential construction. For now, there is not enough forward-looking transparency to permit aggressive recovery."
Across all industries, the nation added 148,000 jobs, falling short of the average 185,000 jobs that have been added per month during the past year. The private sector expanded by 126,000 jobs and the public sector added 22,000 jobs. According to the Bureau of Labor Statistics' household survey, the national unemployment rate fell slightly to 7.2 percent in September, down from 7.3 percent in August and 7.8 percent in September 2012. This is partially due to a dismal labor force participation rate, which remained at just 63.2 percent, a 35-year low.
View the August PPI report.
Companies in this article