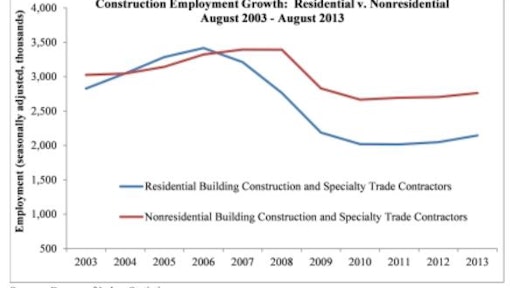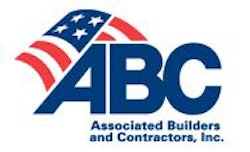 While overall national construction employment remained unchanged in August, nonresidential construction lost 3,300 jobs, according to the September 6 employment report by the U.S. Department of Labor. Construction industry employment has grown 3 percent, adding 168,000 jobs, since the same time last year. Nonresidential construction accounted for 42 percent of that growth - making August a deviation from what generally has been a positive nonresidential construction employment trend.
Although the national construction unemployment rate held steady at 9.1 percent on a non-seasonally adjusted basis, it is down from 11.3 percent in August 2012, representing an expansion from 8.17 million workers 12 months ago to 8.32 million workers in August 2013. Much of this growth is due to the uptick in residential building; however, residential construction employment also fell by 600 jobs last month, which may be an indication that the nation's housing recovery is stalling in the face of higher interest rates and materials, labor and land costs.
Most States Showing Year-Over-Year Employment Gains Despite July Decreases
Nonresidential specialty trade contractors lost 1,300 jobs for the month, but employment remains 39,200 jobs, or 1.9 percent, higher than one year ago. Residential specialty trade contractors added 4,900 jobs in August and have added 87,800 jobs, or 6 percent, since August 2012. Employment for heavy and civil engineering construction was up by 1,200 jobs for the month and is up by 13,700 jobs, or 1.6 percent, on a year-over-year basis.
Across all industries, the nation added 169,000 jobs, falling short of consensus expectations that were in the neighborhood of 175,000 jobs. The private sector expanded by 152,000 jobs and the public sector added 17,000 jobs. According to the Bureau of Labor Statistics' (BLS) household survey, the national unemployment rate fell slightly to 7.3 percent in August, down from 7.4 percent in July and 8.1 percent in August 2012. However, this was due in part to a decline in the labor force participation rate, which now stands at just 63.2 percent.
"Sustained recovery in nonresidential construction activity remains elusive," said Associated Builders and Contractors (ABC) Chief Economist Anirban Basu. "For years, recovery has been hampered by slow economic growth, tight credit, strained public budgets and a general lack of confidence. Many of these conditions remain despite recent improvements in credit availability and in the finances of many state and local governments.
"Also, as certain conditions improve, other emerging factors serve to suppress the pace of recovery, including rising interest rates, federal spending dynamics, rising energy costs, the ripple effect of Detroit's bankruptcy, and nervousness regarding health care reform, domestic politics and geopolitics," Basu said.
"ABC continues to believe 2014 will represent a year of more vigorous recovery; however, 2013 has proven to be a bit disappointing, with construction spending and employment failing to establish the type of momentum many industry stakeholders had anticipated earlier this year," Basu said. "According to federal data, nonresidential construction spending has actually declined 0.8 percent during the past year, with private spending up 2 percent and public nonresidential construction spending down nearly 4 percent.
"There are at least two silver linings to today's report," Basu said. "The first is that heavy and civil engineering added 1,200 jobs last month, according to the BLS' preliminary estimate. Second, because today's jobs report was somewhat disappointing, the Federal Reserve may choose to slow its anticipated pace of monetary tightening. That likely would help stabilize interest rates, an important ingredient if the nonresidential construction industry is to perform as well as expected next year."
View the July employment report.
Companies in this article