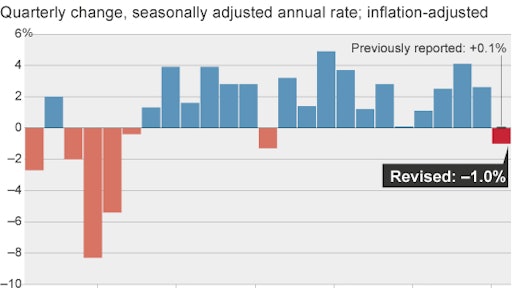 The U.S. Commerce Department on revised its estimate of first-quarter 2014 gross domestic product down to show the economy shrank at a 1.0% annual rate. It's the first GDP drop in three years, as it buckled under the weight of a severe winter, but there are signs activity has since rebounded.
The worst performance since the first quarter of 2011 reflected a far slower pace of inventory accumulation and a bigger than previously estimated trade deficit. Both are temporary factors which should fade and unleash a surge in growth this quarter.
"The race isn't over yet for the economy. We are still expecting a strong finish to the year. Inventory levels will rebuild, pushing GDP to nearly 4% in the second quarter," said Chris Rupkey, chief financial economist at Bank of Tokyo-Mitsubishi UFJ in New York.
The decline also reflected a plunge in business spending on nonresidential structures. The economy grew at a 2.6 percent pace in the fourth quarter of 2013.
Economists estimate severe weather could have chopped off as much as 1.5 percentage points from GDP growth.