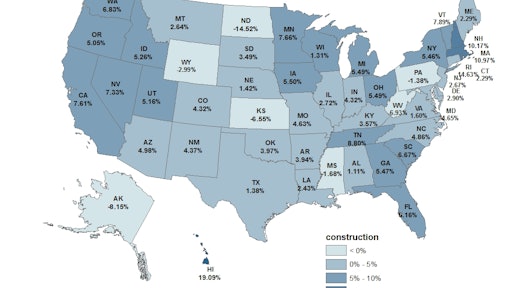 According to the Regional and State Employment data from the Bureau of Labor Statistics (BLS), overall construction employment is growing relatively faster in states in New England and the Pacific Division.
Construction Remains One of Economy's Bright Spots
National Association of Home Builders's (NAHB) analysis of February regional employment data from the BLS shows that states with the highest annual growth rates of total construction employment are:
Hawaii (19.09%)
Rhode Island (14.63%)
Massachusetts (10.97%)
New Hampshire (10.17%)
Tennessee (8.80%)
Construction Sector Adds 37,000 Jobs in March
A shortage of skilled residential construction labor remains one of the biggest challenges for builders. Forty-three states and District of Columbia experienced positive year-over-year changes in construction employment in February, compared to 44 states three months ago.
27 States Added Construction Jobs in February
Seven states lost construction jobs in February 2016. The largest construction job losses were recorded by the energy producing states, which are deeply affected by the plunging oil prices, such as North Dakota, Alaska, and Wyoming. On a month-over-month basis, around 60% of states reported gains in construction employment in March, with the largest increases registered by Washington (3.10%).
Regional employment is an important element of determining housing demand. The BLS state level data suggest that all but seven states reported an annual gain in payroll employment, with the exception of:
Alaska
Kansas
Oklahoma
Louisiana
West Virginia
Wyoming
North Dakota
The top three states with the largest gains were all in the West and include Idaho (3.97%), Utah (3.27%) and Oregon (3.14%).