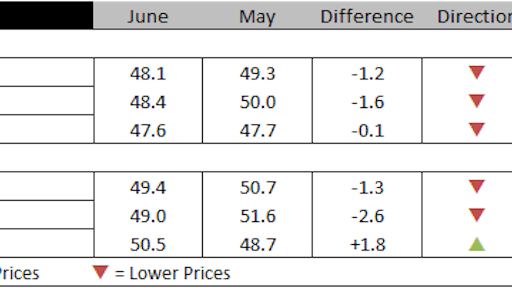 Construction costs fell once again in June, according to IHS Inc. and the Procurement Executives Group (PEG). The headline current IHS PEG Engineering and Construction Cost Index (ECCI) registered 48.1 this month, down from 49.3 in May. The headline index has been consistently below the neutral mark for the past 18 months. Although it had been rising towards the neutral mark since January's low point, the headline index reversed this trend in June.
This month, the current materials/equipment price index fell below the neutral mark. The sub-index registered 48.4 in June, showing that costs are once again falling, which has been the general condition in markets since January 2015. Although ready-mix concrete, fabricated structural steel and copper-based wire and cable are still showing price increases, seven other components in the materials and equipment index show falling prices. Two components saw prices remain unchanged. Fabricated structural steel prices increased relative to May. However, both ready-mix concrete and copper-based wire and cable prices are not rising as broadly as they were last month.
"The weakness in the material/equipment index echoes the reset now taking place in commodity markets more generally. Commodity prices saw widespread strength earlier this year that has not been supported by improving fundamentals," said John Mothersole, director of research at IHS Pricing and Purchasing. "IHS expects price movements to remain choppy for much of the summer before a slow improvement in conditions brings some stability back to markets later this year."
The current subcontractor labor index also fell in June. The sub-index has been moving down since the beginning of the year and at 47.6, it recorded its second month below the neutral mark, highlighting a lack of pressure in labor markets.  In the United States, labor costs were soft in all regions except the U.S. South, where prices were unchanged relative to last month. In Canada, labor costs for Western regions fell; in Eastern regions, they were mostly unchanged from May.
The six-month headline expectations index shows lower future prices. The index moved down from 50.7 in May to 49.4 in June. The materials/equipment sub-index fell from 51.6 to 49.0 this month. Two components came in above the neutral mark, six showed softer price expectations, and four were neutral. The consensus for higher price expectations took a hit in June.
Subcontractor labor prices moved in the opposite direction, rising from 48.7 to 50.5. In the U.S. South and Northeast, prices were mostly rising. The U.S. West generally had flat labor costs, while in the U.S. Midwest cost fell. In Canada, labor costs for Western regions were unchanged relative to last month and fell in Eastern regions.
In the survey comments, respondents continue to highlight low-level activity in capital expenditure projects, especially in the oil and gas sector.