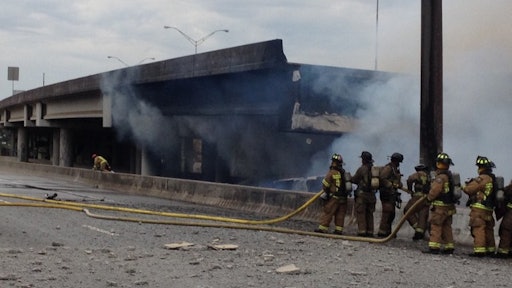 Atlanta's notorious traffic is expected to be more tangled than usual after a massive fire caused a bridge on Interstate 85 to collapse, completely shutting down the heavily traveled highway. Georgia Gov. Nathan Deal declared a state of emergency Thursday night after fire officials extinguished a massive fire on I-85 in Atlanta that led to the collapse of a bridge on the crowded interstate.
Georgia's top transportation official said there's no way to tell when the highway, which carries 250,000 cars a day, can be safely reopened to traffic in either direction following the collapse, which happened Thursday afternoon during rush hour.
"We will have to continue to evaluate the situation and adjust as we do," Department of Transportation Commissioner Russell McMurry said. "This incident — make no bones about it — will have a tremendous impact on travel."
Deal said Georgia Department of Transportation inspectors are on the scene and that the construction crew that built the bridge has been contacted to look at the schematics and determine how long it will take to repair.
He said the cause of the fire is not yet known but "the speculation I've heard is that there are some PVC products that caught fire."