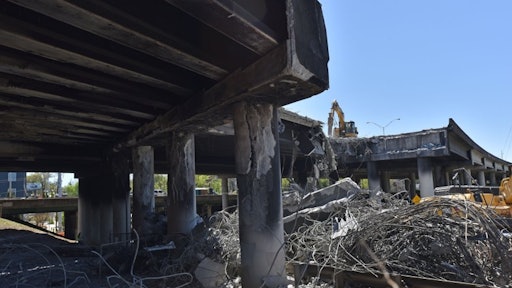 The Georgia Department of Transportation plans to have the Interstate 85 bridge near Piedmont Road in Atlanta rebuilt by June 15, its leaders said.
"At the governor's urging, we are going to incentivize the completion of this work," GDOT Director of Construction Marc Mastronardi said. "We have selected a date that we believe is aggressive but attainable and will offer a bonus for early completion.
"We understand there is a great desire to know cost and time estimates. For time, we expect the work to be completed in roughly 10 weeks, or June 15. We expect the contractor to complete their estimate by week's end and for us to reach a negotiated agreement approved by our (Federal Highway Administration) partners early next week. At that time we can share the details with you all."
GDOT Chief Engineer Meg Pirkle said the bridge, built in 1984 and last inspected in August 2015, will be rebuilt by Marietta-based C.W. Matthews Contracting Co. Inc., the winning bidder.
"The final plans were submitted to the contractor by midnight Sunday night," she said. "We are using accelerated 24-hour drying concrete. This is an expensive product not used in normal construction (jobs). The size and complexity of this site (are) very challenging."
Even if it affects many tens of thousands of commuters, it is probably not a huge impact on hiring, but it is somewhat concentrated: one place, one small slice of the workforce. And it does come to construction as demand has been easing up.
There are about 118,500 construction jobs in Atlanta. That is up a robust 6.9% from a year ago -- nearly twice the pace of overall hiring -- but it is actually down a couple thousand from the early fall.