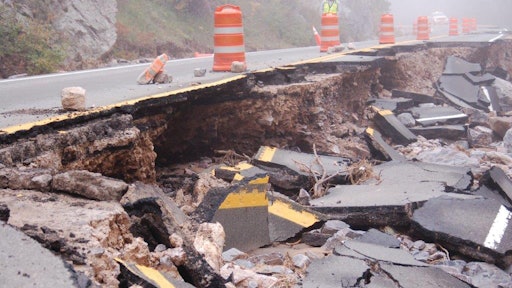 U.S. Transportation Secretary Elaine Chao approved $768.2 million in spending to help fix roads and bridges that have been damaged by storms or catastrophic events across 40 states.
The money will come from the Federal Highway Administration's Emergency Relief (ER) program, which awards funds for repair work needed after major disasters.
"Transportation is a lifeline for communities struggling to recover from floods, hurricanes or other natural disasters," said Secretary Chao. "These funds will help with long-term, permanent repairs, as well as immediate needs to reestablish the transportation networks on which families and businesses alike depend."
The ER funds will help states from Alaska to Florida, as well as roads serving several national parks, U.S. forests and other federal lands.
At $124 million, Colorado will receive the most in this reimbursement release of ER program funds, for repairs to severe flooding damage in the state that goes back to 2013 and to repair a section of I-70 in Glenwood Springs damaged in 2016 by a rock slide.
At more than $105 million, California is second on the list for a variety of storm, rain, floods and fire events over the last three years. South Carolina follows at more than $79 million for severe storms, including Hurricane Matthew last October. Ohio received $61 million for damages to roads caused by landslides, heavy rain and flooding.
FHWA's ER program reimburses states for eligible expenses associated with major damage from natural disasters or other emergency situations based on a request from the governor of the state or a presidential disaster declaration.