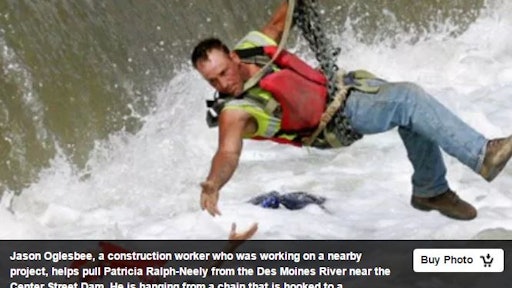 Millions saw Oglesbee in a moment of clear heroism, but his life was marked with other heroics of a more complicated kind.
Oglesbee was the quick-thinking construction worker who dangled from a crane in downtown Des Moines on June 30, 2009, to pluck Patti Ralph-Neely from the churning waters of the Des Moines River. A Des Moines Register photographer won the Pulitzer Prize with a photo of his daring, thrusting 15 minutes of fame on Oglesbee.
Ralph-Neely, 75, still considers Oglesbee to be her angel. Her husband, Alan, drowned in the accident, after the couple's boat plunged over the Center Street Dam.
"I'm no hero," the construction worker protested to Ralph-Neely's daughter at the time. "Someone died today."
Oglesbee refused interviews from national morning network TV news programs, among other offers of publicity.
"He felt so bad he didn't get to save her husband," said Oglesbee's mom, Sharon Steward. "It was hard for him to accept the praise that he got, the good words that he got."
Oglesbee, 53, died early last week at Iowa Methodist Medical Center after collapsing March 29 in Creston. The Des Moines Register reports that he had no fixed address at the time. The paper's obituary shares the stories of several other people Oglesbee helped save, through a life challenged by addiction and some of its meanest results.