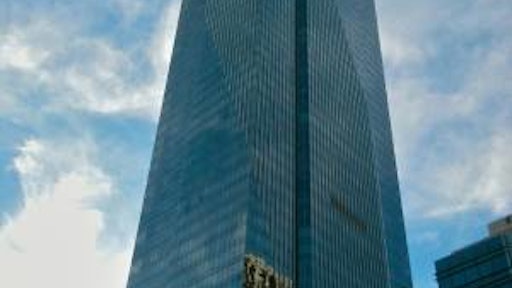 A fix may be in the works for San Francisco's sinking and tilting Millennium Tower, just as a new report estimates the 58-story luxury high-rise sunk another inch in 2017.
City officials and other sources familiar with the situation told SFGate.com that the building has now dropped 17 in. since construction got under way in 2005 and continues to descend into bay fill at Mission and Fremont streets.
Sinking more on its northern side causes the building to lean that direction. Measured at the roof, it now leans nearly 14 in. – 2 in. more than the January measurement.
Residents who paid $1.6 million to $10 million for their condominiums got good news recently when two engineering firms – LERA and DeSimone Consulting Engineers – suggested the problem can be remedied by drilling 50 to 100 new 10- to 12-in. piles down to bedrock from the building's basement. Estimated cost: $100 million to $150 million.
Last August, the developer insisted that its decision to sink the high-rise's 900 original piles 60 to 91 ft. (well short of the 200 ft. to bedrock) had nothing to do with the building's stability, and that the ground under the building had been destabilized by neighboring construction.
Millennium Partners says the tower's problems were caused by construction crews pumping groundwater from the adjacent  Transbay Transit Center site. The multiagency Transbay Joint Powers Authority argues that slippage continued long after pumping ended, proving that the culprit was the developer's decision not to drive piles to bedrock. Millennium Partners also said it suspects construction of the nearby Salesforce Tower added to the problems.
(more on the solution for San Francisco's leaning tower . . . )