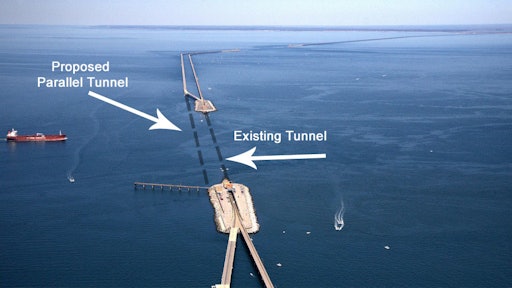 Chesapeake Bay Bridge-Tunnel
Groundbreaking for the Chesapeake Bay Bridge-Tunnel is set for September 18. The construction project will include a parallel Thimble Shoal Tunnel to add two more underwater lanes between Hampton Roads and the eastern shore. The $756 million project is projected to take five years.
"The hardest thing about this project is going to be the logistics," said Kevin Abt, project manager for the parallel tunnel project. "Everything has to be just in time. So whatever we're doing that particular day, those trucks have to show up, otherwise things are going to stop."
The tunnel will be constructed using a large boring machine - similar to the tunneling done on the new Alaskan Way Viaduct. Through this process, roack and soil are removed through the rear of the boring machine, and the tunnel walls can be built as it advances. This process also means less disturbance to the bay's sensitive ecosystem.
(more on the Chesapeake Bay Bridge-Tunnel construction project...)