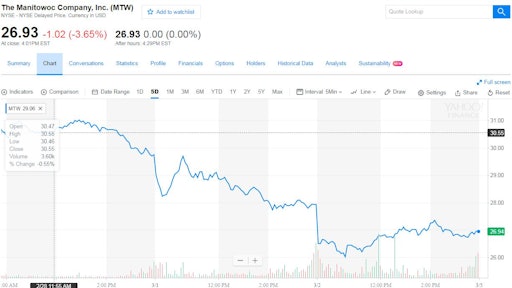 Yahoo Finance
Billionaire investor and longtime confidant of President Trump, Carl Icahn, showed extraordinary prescience in dumping $31.3 million worth of shares in Manitowoc Company Inc.
Icahn disclosed in a little-noticed SEC filing submitted on February 22, 2018, that he sold off nearly 1 million Manitowoc shares – more than a third of his stake in the company – seven days before Trump surprised even his own staff with the announcement of plans to impose steep tariffs on steel imports.
Manitowoc is a global crane manufacturer, heavily dependent on steel to make its products. Icahn remains Manitowoc's fifth-largest shareholder with about 4.8% of the company's common shares.
Trump started an investigation to determine the effect of steel and aluminum trading on the U.S. last April, citing national security concerns. The U.S. Commerce Department delivered its recommendations for steel trade to the president on Jan. 11 and for aluminum on Jan. 22. Both were made public on Feb. 16.
On Thursday, Trump proposed slapping tariffs of 25% on imported steel and 10% on aluminum, though the plans are yet to be formalized.
The stock market fell immediately after Trump's announcement, and Manitowoc stock lost about 6% of its value. As of 10:20 a.m. Friday, the stock had lost an additional 6%, trading at $26.21.
Icahn's SEC filing, required because of the large volume of his sale, reveals that he began systematically selling the stock on February 12, at $32 to $34 per share. Manitowoc shares have lost about 22% of their value since Feb. 9, the last trading day before Icahn starting reducing his stake.