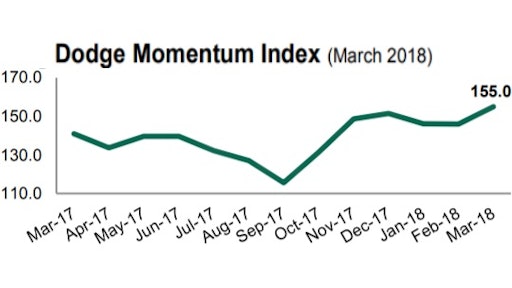 The Dodge Momentum Index (DMI) increased by 6.1% in March, reaching a high of 155.0, after a score of 146.0 in February.
Dodge Data & Analytics compiles the DMI as a monthly measure of the initial report for non-residential building projects in planning.
Oldcastle Business Intelligence reports that the DMI's commercial building component increased by 9.6% to 163.6 in the month, while the institutional building component grew moderately to 144.3.
The Momentum Index is 10.0% higher than in March 2017, "Suggesting that non-residential building construction should continue to post moderate gains in 2018 driven mostly by commercial construction," according to Oldcastle's analysis of the data.
(go to Oldcastle's Construction Data and Trends report . . . )