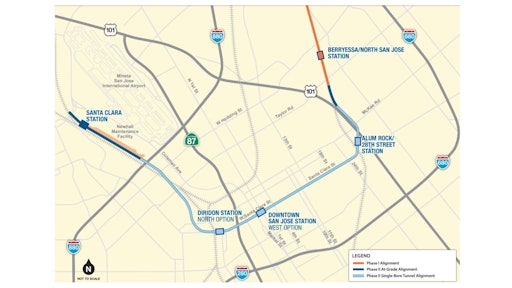 The Bay Area Rapid Transit's Board of Directors on Thursday approved a plan to extend service to Silicon Valley with the first U.S. use of a single tunnel bore to carry two passenger rail lines under San Jose, Calif. The method means workers wouldn't have to rip up the streets of downtown during construction.
The Santa Clara Valley Transportation Authority says the single-tunnel method can shorten the otherwise 5-year project by 10 months.
The $4.8 billion Silicon Valley BART extension will be the largest transportation infrastructure improvement project ever undertaken in Santa Clara County. The 5.5-mile line is expected to take tens of thousands of cars off the roadways, according to the VTA. Approvals from BART and the VTA were necessary to secure $1.5 billion in federal aid for the project.