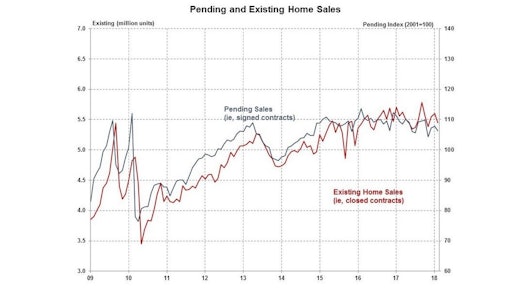 National Association of Home Builders
The Pending Home Sales Index decreased 0.5% to 105.9 in May and remains 2.2% below its year-ago level after five consecutive months of decline. The Pending Home Sales Index (PHSI) is a forward-looking indicator based on signed contracts reported by the National Association of Realtors (NAR). The PHSI decreased in May from 106.4 in April.
Regionally, the PHSI increased 2.9% in the Midwest, 2.0% in the Northeast and 0.6% in the West. But it decreased 3.5% in the South. Year-over-year, the PHSI remained unchanged in the South, but declined 2.5% in the Midwest, 4.1% in the West and 4.8% in the Northeast.
"Limited inventory of homes for sale caused NAR to characterize the spring buying season as one of unmet expectations," according to analysis of the PHSI update by the National Association of Home Builders. "However, new home sales increased in May, and builder confidence slipped only slightly despite soaring lumber prices. As the expanding economy continues to fuel a healthy job market, the demand for new residential construction will continue to grow."