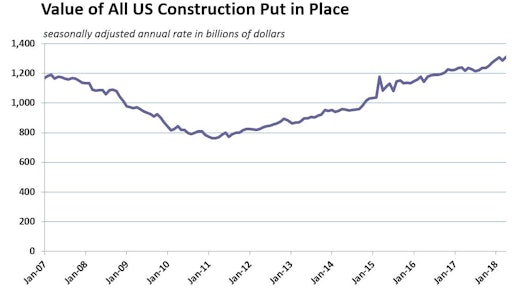 The total value of U.S. construction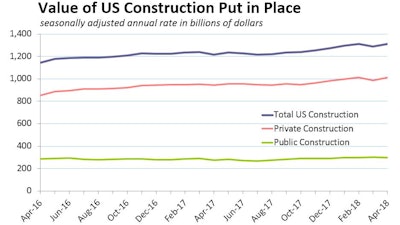 put in place in April more than doubled economists' expectations with a 1.8% increase for the month. The overall gain pushed construction to a record-high seasonally adjusted annual rate of $1.31 trillion.
"The April jump reversed the March drop, but the bigger picture here is that this is the fifth 1%-plus increase in the past six months," Ian Shepherdson, chief economist for Pantheon Macroeconomics told MarketWatch.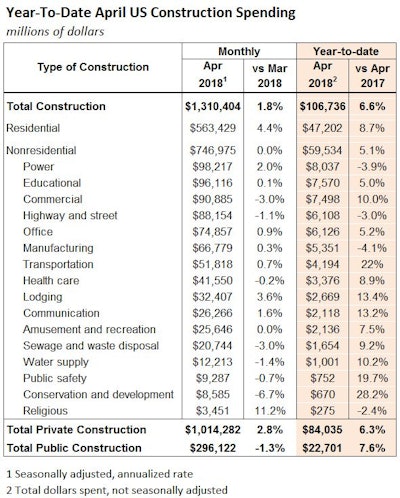 Year-to-date spending is 6.6% higher than the same period in 2017.
Private-sector expenditures rose 2.8% during April, the largest increase since January 2012. Residential construction spending jumped 4.4% (year to date, now 8.7% greater than in last year's first four months). It was the biggest rise since November 1993.
Much of April's residential rebound was due to home-improvement expenditures, which jumped 11.6%, according to Wells Fargo Economics' analysis of the Commerce Department's monthly estimates. Outlays for single-family construction were flat in April and multifamily construction increased 3.6%
Spending on nonresidential construction was flat in April, with a 2.0% increase in spending on the massive power segment neutralized by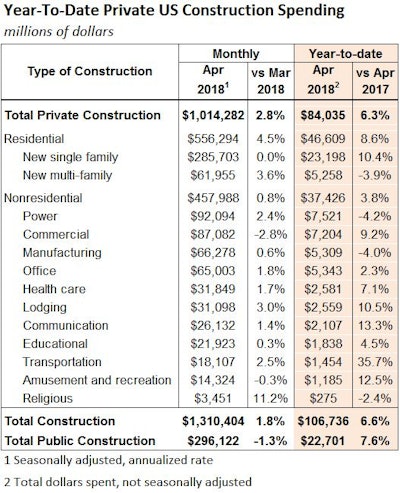 a 3.0% drop in the similarly sized educational construction segment.
Total nonresidential construction in the U.S. year to date remains 5.1% above spending in the same period of 2017. Power construction spending is down 3.9% year to date, highway and street construction is down 3.0% and the manufacturing sector has spent 4.1% less than in the first four months of 2017. But the other large nonresidential sectors have shown strength so far in 2018:
Educational +5.0%
Commercial +10.0%
Office +5.2%
Transportation +22.0%
Public-sector spending fell 1.3% on a 10.2% plunge in federal spending and 0.3% slip at the state and local level. The largest public-spending segment – highway and street – receded 1.0% for the month and is down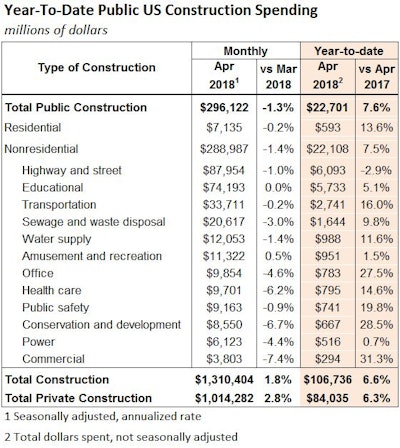 nearly 3.0% year to date.
Government spending on educational and transportation construction was flat in April, but spending in those segments year to date has grown 5.1% and a whopping 16.0%, respectively.