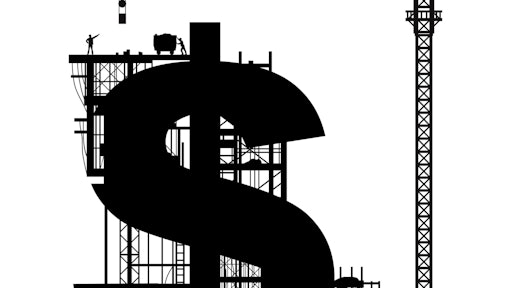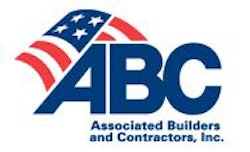 Nonresidential construction spending remained unchanged in April on a monthly basis, according to an Associated Builders and Contractors (ABC) analysis of U.S. Census Bureau data. However, year-over-year spending was up a sturdy 6.1%.
Private sector spending increased 0.8% on a monthly basis and is up 5.3% from a year ago. Public sector spending fell 1.4% in April, but is up 7.3% year over year.
"Between today's employment and construction spending reports, it is clear that the economy continues to exhibit strong momentum and abundant confidence," said ABC Chief Economist Anirban Basu. "It's important to remember that the construction spending data generally have failed to display as much economic strength as many other indicators. Even the most recent monthly readings on construction spending were unspectacular, but the year-over-year numbers are consistent with ongoing economic and industry progress.
"Perhaps most encouraging is the growing strength of the public categories," said Basu. "For many years, public construction spending languished even as private categories demonstrated growing vigor. With the dramatic improvement in state and local government finances in many communities in recent years, there is greater capacity to invest in infrastructure. Not coincidentally, construction spending in the transportation category rose 22% during the past year. Spending in the public safety category, which includes spending on police and fire stations, is up by nearly 17%.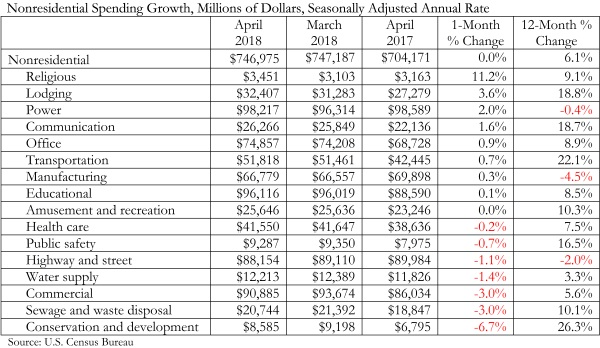 "As always, there is a need to pay attention to any clouds forming on the horizon," said Basu.  "Inflationary pressures continue to build, with tariffs on steel and aluminum likely to accelerate construction materials price appreciation during the next several months. Interest rates are expected to head higher, though perhaps only in fits and starts. Wage pressures also continue to build. The implication is that the cost of financing construction projects is on the rise. Should those costs rise too quickly, the momentum presently observable in nonresidential construction spending and employment data could quickly dissipate."