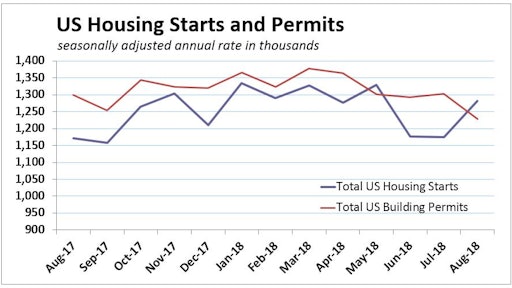 U.S. Department of Commerce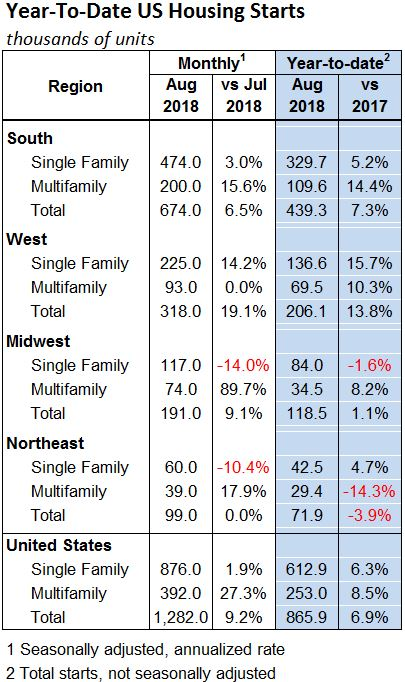 U.S. housing starts rose 9.2% in August, driven by an outsize leap in apartment building that masked weakening across single- and multifamily construction.
Single-family housing starts in August rose 1.9% to a seasonally adjusted annual rate of 876,000 units, and multifamily starts soared 27.3% to an adjusted annual rate of 392,000 units, according to the U.S. Department of Commerce's monthly estimates.
Monthly housing starts numbers are notoriously volatile. From the first of 2018, multifamily starts had trended down slightly through July. Multifamily starts year to date as of August, however, were 8.5% higher than the first eight months of 2017. The much larger category of single-family starts has been a bit more consistent, and the year-to-date total remains 6.9% above the same period last year.
The number of building permits issued tends to be a more stable measure, and can help predict future home construction volume. Total permits dropped 5.7% from July to August, with single-family permits down 6.1%
Wells Fargo says flat-to-down trend in housing permits issued suggest homebuilding is losing momentum and multifamily permits down 4.9% for the month. The year-to-date totals show single-family permits more-consistently 6.5% above the first eight months of 2017, and multifamily permits 1.8% above last year.
Checking on more-recent change, multifamily permits have fallen for the past five months, and single-family permits have been essentially flat since the first of the year.
"Permits are now running below starts, suggesting homebuilding is losing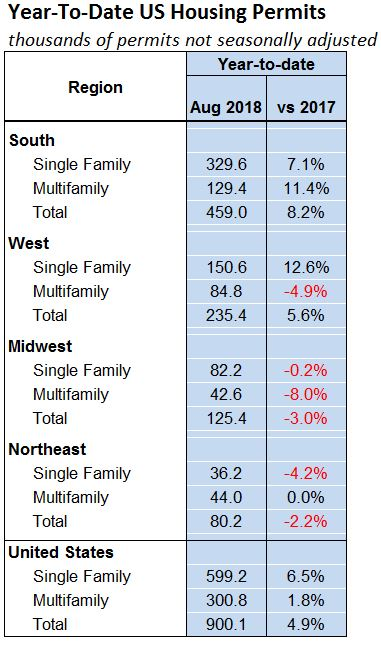 Year-to-date totals show U.S. single-family housing permits 6.5% above the first eight months of 2017, and multifamily permits 1.8% above last yearmomentum," according to Wells Fargo Economics Group's analysis of the August housing numbers.
The National Association of Home Builders/Wells Fargo Housing Market Index (HMI), a measure of home-builder confidence, may portray current housing-market conditions best. Survey results build an index where any score over 50 indicates that more builders view conditions as good than poor. The September HMI came in at a solidly positive 67. But a close look at the NAHB's graph of index history shows that HMI results have pretty consistently declined since before the first of the year.
Analysis from the Wall Street Journal
U.S. Housing Starts Rose in August
Jump in home building obscures weakness in the pipeline for single- and multifamily construction