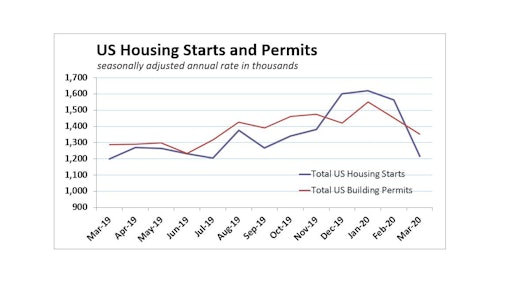 Data: US Dept. of Commer; Graphics: ForConstructionPros.com
The 22.3% drop in housing starts reported for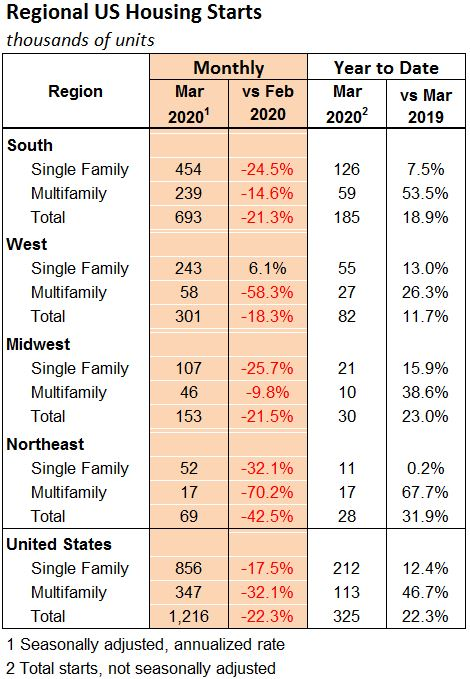 March was the biggest plunge since 1984, but it was largely in line with expectations given stay-at-home orders to battle COVID-19's spread. Wells Fargo Economics Group reports that starts had hit their highest pace of the cycle during the prior three months, averaging a 1.595-million-unit pace. Both single-family and multifamily starts fell sharply in March, tumbling 17.5% and 31.7%, respectively.
Homebuilding is not at the center of the current economic storm, but demand for single-family homes and apartments will certainly be impacted by the sharp pullback in overall economic activity and the spike in the unemployment rate.
Inventories of completed single-family homes remain exceptionally lean but prospective buyer traffic has dried up, which will likely keep builders cautious. "Q2 home sales probably could fall by 50% compared to Q1, bringing us back to the levels we last saw during the Great Recession," Richard Branch, chief economist with Dodge Data & Analytics told webinar attendees on April 9. 
Multifamily starts have been dominated by apartment development. While overall vacancy rates remained historically low throughout much of this cycle, the sudden spike in unemployment and plunge in demand in the gig economy has led to a surge in the number of people falling behind with their rent payments.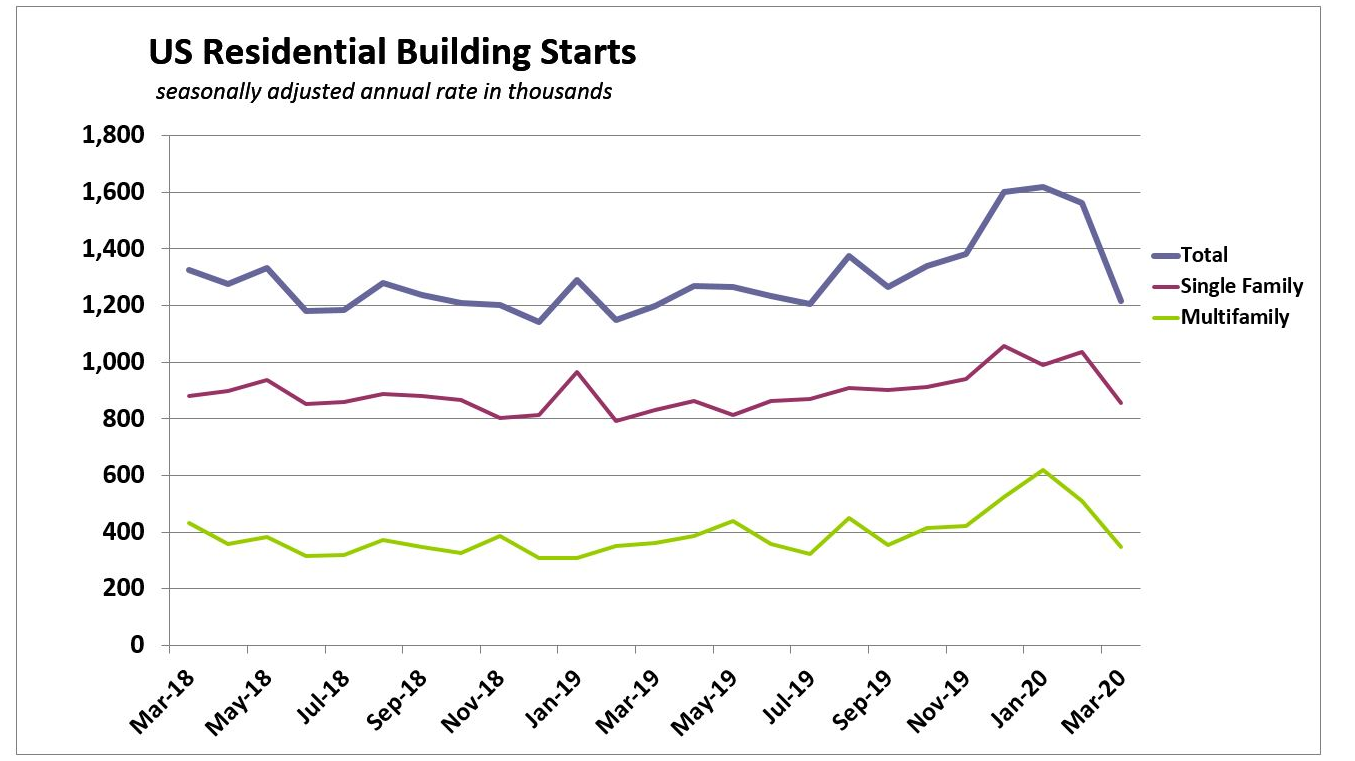 The number of multifamily units currently under construction—the overwhelming majority of which are rental apartments—will lead to an avalanche of new supply later this year and in early 2021. This morning's report shows 684,000 multifamily units are currently under construction, which is 150,000 more units than single-family homes (which includes townhomes) and nearly double the 364,000 multifamily units completed in March. Unfortunately, the bulk of this supply is likely to come on line when the economy is recovering from The Great Shutdown, and absorption is likely to come back somewhat slower than it did after the last recession.
Even with an uncertain future ahead, multifamily permits actually rose 4.9% in March, following a 20.6% drop the prior month. Permits have averaged a 493,000-unit pace over the past three months, suggesting that the supply of new apartments is likely to keep growing for some time.
The single-family market fell more than expected in March. Milder than usual weather allowed more homes to be started in the normally slow winter period, which meant starts rose less than usual in March. Cumulative single-family starts for the first three months of 2020 are running 12.4% ahead of the pace for the same period last year, while the 962,000-unit pace averaged over the past three months is 8% ahead of the 887,700 single-family homes started in all of 2019. The strong start will not prevent single-family starts from falling this year, however.
The April NAHB/Wells Fargo Housing Market Index noted a sharp drop in prospective buyer traffic, and several homebuilders have noted an uptick in contract cancelations, which is to be expected given the sudden spike in unemployment and heightened uncertainty about the economy. Wells Fargo Economics is expecting a modest pullback in single-family construction this year and a much more abrupt slowing in multifamily starts later this year and in 2021.