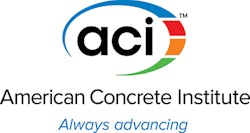 FARMINGTON HILLS, Mich. (October 11, 2011 ) -- The American Concrete Institute's (ACI) Fall 2011 Convention will take place October 16-20, 2011 in Cincinnati, Ohio at the Millennium Hotel and Duke Energy Convention Center.

The ACI Fall 2011 Convention lives up to its theme, "Bridging theory and practice," by gathering engineers, architects, contractors, educators, manufacturers and material representatives to collaborate on concrete codes, specifications and standards. Intended to deliver real world applications for emerging trends and industry topics, the convention will feature 300+ committee meetings, 30+ technical sessions, two technical tours, an industry trade exhibition, networking opportunities and more.

Contractors' Day will be Tuesday, October 18 and will feature a lunch presentation delivered by Chief Warrant Officer 5 David F. Cooper, area local and combat veteran with numerous deployments in support of operations Desert Storm, Enduring Freedom- Afghanistan and Iraqi Freedom. The Contractors' Day Session, moderated by Dan Baker (President of Baker Concrete Construction of Monroe, Ohio), will feature presentations that deal with the challenges and other endurances a concrete contractor may face.

Student events include the Student Pervious Cylinder Competition and Student Project Competition Presentation, the Student and Young Professional Networking event and Student Lunch featuring a presentation by the current ACI President and Cincinnati native, Kenneth Hover.  

ACI strives to advance education in the communities it visits and will be accepting book and monetary donations for children in grades K-12 for the Literacy Network of Greater Cincinnati (LNGC). Cash, check and book contributions can be made at the LNGC booth in the exhibit area at the Duke Energy Convention Center. Online donations can be made at www.lngc.org.

To learn more about the convention, please visit www.aciconvention.org.