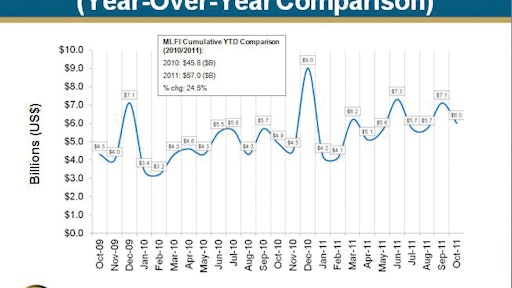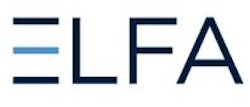 The Equipment Leasing and Finance Association's (ELFA) Monthly Leasing and Finance Index (MLFI-25), which reports economic activity for the $628 billion equipment finance sector, showed overall new business volume for October was $6.0 billion, up 22% from volume of $4.9 billion in the same period in 2010. Volume was down 16% from the previous month. Year-to-date cumulative new business volume is up 25%.
Credit quality metrics were improved. Receivables over 30 days were the lowest in over two years, decreasing 2.2% in October from 2.3% in September. Charge-offs also declined, from 0.9% in September to 0.7% in October.
Credit standards tightened in October as the number of lease applications approved decreased nominally to 76.3% from 76.5% the previous month.  Fifty-nine percent of participating organizations reported submitting more transactions for approval during the month.
Finally, total headcount for equipment finance companies in October was unchanged month to month and down 1.4% year over year. Supplemental data show that the construction and trucking industries led the underperforming sectors.
Separately, the Equipment Leasing & Finance Foundation's Monthly Confidence Index (MCI-EFI) for November is 57.4, up from the October index of 50.7, indicating an increase in optimism about business activity despite ongoing concerns about the global economic situation.  For more detailed information on the MCI-EFI visit www.LeaseFoundation.org
ELFA President and CEO William G. Sutton, CAE, said: "The October decline in new business volume had more to do with typically strong end-of-third-quarter activity than a slowing demand for lease financing of assets by U.S. businesses. While concerns about the global credit markets continue to make headlines, American businesses continue to invest in productive equipment that will help keep the economy steadily moving in the right direction. Credit quality is strengthening, laying the foundation for economic expansion and stability as we lead into the new year."
Jim McGrane, President, EverBank Commercial Finance, Inc., located in Parsippany, NJ, said, "We were pleased to see healthy year-over-year new business volume growth in October coming off a strong quarter end. Portfolio performance continues to stand out with delinquencies and charge-offs hovering near historical lows—a comforting trend in this uncertain economic environment. Continued growth in investment in equipment and software along with a substantive increase in the Monthly Confidence Index causes us to have confidence in future industry performance."