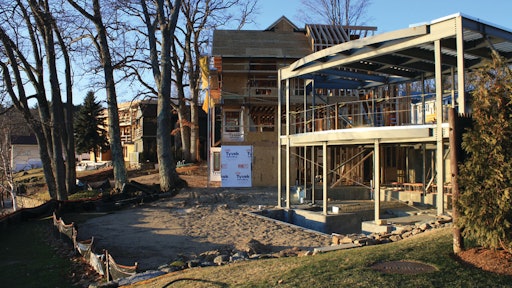 The Inns & Spa at Mill Falls in Meredith, NH, in conjunction with Conneston Construction, Inc. (CCI), of Gilford, have taken on the Made in America Challenge with the Church Landing Phase II expansion project. The Made in America Challenge, an initiative of ABC-TV's World News Tonight with Diane Sawyer, is based on the simple concept of buying products that are made in America and help put Americans back to work.
"ABC World News Tonight and Diane Sawyer have been touting the virtues of this idea on the show for some time and it sparked our interest here in Meredith as we are in the construction phase of the Church Landing expansion," said Rusty McLear, president of The Inns & Spa at Mill Falls. "We thought 'Wouldn't it be great to take this challenge, make this construction project Made in America, and help create jobs for Americans?'"
The project broke ground in September 2011, and will feature two new buildings with a total of 17,000 square feet of guest rooms, lounges and an indoor-outdoor pool. Construction is expected to be completed in May 2012.
"In a construction meeting in October, we went around the room and asked ourselves 'Would it really be that hard to make sure as much, if not all, of the project was in fact manufactured in this country?'," said Ross Currier, Vice President of CCI. "We wondered that maybe a lot of what we're already buying meets the definition of being Made in America. So that's just what we did."
According to Currier, all subcontractors were tasked with analyzing every single material to be used in the construction project to determine if everything being used is Made in America.
"If we determined it wasn't Made in America, we asked ourselves, can we switch to a product that is domestically made? Is there an option to buy it in the U.S.? If there is, will we have to pay more?," said Currier. "These were the questions we asked ourselves, and what we discovered is that this expansion project could be 95% Made in America."
A Blueprint for Change
McLear hopes this effort will help to serve as a blueprint for others looking to take the Made in America Challenge and help put Americans back to work.
"While it has taken some effort, this initiative has been well worth the time spent," said McLear. "We are proud to say this project is 95% American made. Everything from the nails, the steel, the staples, the lumber and the bathtubs are domestically made. The remaining 5% that we weren't able to buy American included the limited access elevator that we plan to install. That particular type of elevator is just not made in the U.S., but we are working with a manufacturer in Canada to supply that. Additionally, a small amount of the electrical panels, breakers and other switching gear, as well some of the screws, nuts and bolts are made outside the U.S."
Currier added that the team was able to realize that in some instances products were the same price, yet provided better quality
"By creating awareness of this effort, we have been able to create a Made in America development, and have not added substantially to the total budget, just $4,000 or so to overall cost," added McLear. "Even though certain goods are more expensive, in total, the cost of the project is nearly identical – an effort well worth the time, awareness, and minimal increased expense, especially if we can contribute to putting Americans to work."
McLear noted that while several New Hampshire projects receiving federal stimulus funds are required to buy American made products, this construction project is the only privately funded project in New Hampshire to be Made in America. According to findings on ABC-TV World News, if every builder bought just 5 percent more American materials it could create 220,000 jobs.