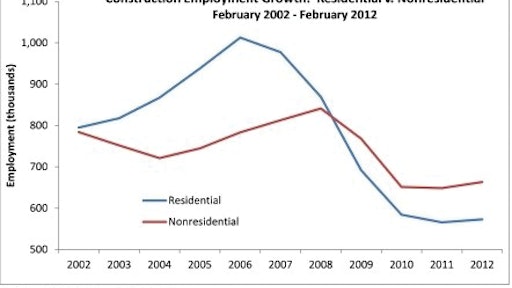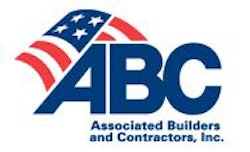 Despite a loss of 13,000 construction jobs in February, the industry's unemployment rate dipped to 17.1 percent, down from 17.7 percent in January, according to the U.S. Labor Department's March 9 employment report.
The nation's construction industry has added 65,000 jobs, or 1.2 percent since February 2011, when the unemployment rate stood at 21.8 percent.
The nonresidential building construction sector added 2,000 jobs in February and has added 15,000 jobs, or 2.3 percent year over year, with employment now standing at 663,200.
The residential building construction sector added 2,000 jobs for the month and has added 7,000 jobs, or 1.3 percent compared to one year ago, with employment at 573,000.
Nonresidential specialty trade contractors lost 14,000 jobs in February but have still added 7,000 jobs, or 0.7 percent, since February 2011. Residential specialty trade contractors lost 2,000 jobs for the month but have added 23,000 jobs, or 1.6 percent, during the past12 months. The heavy and civil engineering construction sector lost 1,000 jobs in February but has added 13,000 jobs, or 1.6 percent, year over year.
Overall, the nation added 227,000 jobs as the private sector expanded by 233,000 jobs and the public sector shrank by 6,000 jobs. Year over year, the nation added 2,021,000 jobs, or 1.5 percent, to job totals. The unemployment rate stood at 8.3 percent in February, unchanged from January.
"Predictions for monthly job growth have been on the rise, and February's performance exceeded those expectations," said Associated Builders and Contractors (ABC) Chief Economist Anirban Basu. "However, that is only true for the broader economy, not for the construction industry.
"With recent increases in nonresidential construction spending and evidence of emerging momentum in the form of shrinking office vacancy rates and busier architects, the expectation had been for nonresidential construction job growth in February," Basu said. "Instead, the nonresidential construction industry shed jobs, with workers at specialty trade contractors feeling the impact.
"The loss of nonresidential construction jobs in February represented an end to a three-month winning streak," said Basu. "There are a number of potential explanations for monthly performance, including seasonal factors. Those in the nonresidential construction industry should note that these statistics are subject to revision, and those changes are often significant.
"The recovery in construction spending has been halting to date, and therefore occasional setbacks are to be expected," Basu said. "ABC's Construction Backlog Indicator, which declined during the fourth quarter of last year, foreshadowed both this jobs report and indicates that construction industry employment is likely to be sluggish in the months ahead.
"The good news is that the overall economy continues to mend, implying ongoing recovery in construction spending," said Basu. "This should eventually translate into more stable nonresidential construction employment growth later this year."
View the previous employment report.
Companies in this article