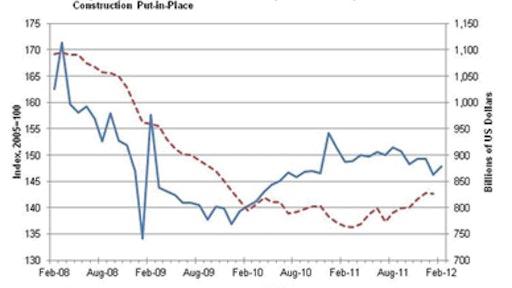 The Wright Express Construction Fuel Consumption Index (FCI) indicated a decrease of 0.6% in February versus its level in February of 2011. The FCI increased by 1.1% from January, but Wright points out that year-over-year percent change offers the greatest insights.
The Construction FCI measures national fuel consumption statistics for the construction industry, which offers an up-to-date indication of construction activity in the United States. Wright Express, a provider of business payment solutions, worked with data and analysis provider IHS to capture and analyze transaction data from Wright's network of more than 180,000 fuel and vehicle maintenance locations, including over 90 percent of the domestic retail fuel locations and 45,000 vehicle maintenance locations.
"The analysis of the February 2011 FCI data has been mixed for the construction industry," said Michael Dubyak, chairman and chief executive officer of Wright Express. "The 1.1% increase in fuel consumption in February 2012 is a nice rebound from the previous month; however in January 2012 total construction put-in-place declined 0.1%, with construction spending excluding improvements falling 0.3%."
According to the IHS analysis, the February result of the Wright Express Construction Fuel Consumption Index reflects the slowly recovering construction industry. After falling 2.0% in January, the seasonally adjusted index regained some ground in February.
Housing inventory dropped to 2.31 million units in January, the lowest level since March 2005. These numbers suggest that the housing glut is going away; however, other data suggest that getting rid of the excess will be a drawn-out affair that will take at least two more years. At the current pace, eliminating the overhang should take less than two years, but will probably take longer, because it is concentrated in a few high-unemployment states.
Construction numbers for 2011 were dismal. Total construction spending was at its lowest level since 1999. But the numbers improved as the year went on. Improvements will extend into this year. Still, 2012 is not expected to be much better than 2011 for the construction industry.
The Wright Express Construction FCI is available monthly in advance of the U.S. Census Bureau figures on construction spending.
Companies in this article