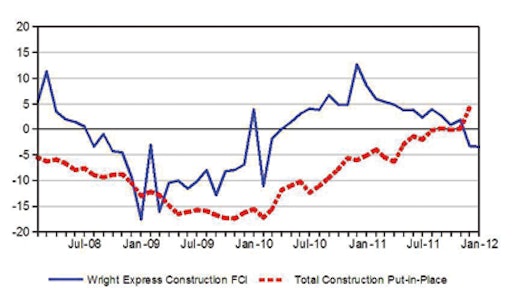 For January 2012, the Wright Express Construction Fuel Consumption Index (FCI) reported that fuel consumption by U.S. construction companies decreased by 3.4% versus January 2011 and decreased by 2.1% versus the previous month.
Recent construction data shows mild improvement for the construction industry; total construction put in place expanded 1.5% in December, and construction spending excluding improvements was up a solid 1.8%.
According to IHS Global Insights, Wright Express' partner in the FCI, the January index results indicate the U.S. construction industry may not be as positive as recent construction data suggests. The IHS analysts note that the seasonally adjusted FCI was nearly flat in December and fell in January, warning that recent months' construction growth indications "must not be overemphasized."
Industry spending remains very low. Construction employs 2 million fewer people than it did at its 2007 peak. The housing market is not expected to accelerate until 2013, or climb above the 1.5-million threshold until 2015.
The Wright Express Construction FCI measures national fuel consumption statistics for the construction industry, which provides an accurate and up-to-date indication of construction activity in the United States. The construction segment comprises approximately 20% of the Wright Express portfolio of customers.
Wright Express worked with IHS to capture and analyze transaction data from its network of more than 180,000 fuel and vehicle maintenance locations, including over 90 percent of the domestic retail fuel locations and 45,000 vehicle maintenance locations.
Indicators are tested at monthly, quarterly, and annual frequencies, with the greatest insights produced using the year-over-year percent change of the monthly data. 
The Wright Express Construction FCI, which is available monthly in advance of the U.S. Census Bureau figures on construction spending, is available at http://www.wrightexpress.com/fci.
Companies in this article