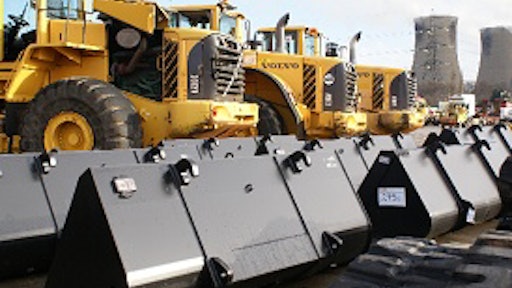 Jonnie Keys, general manager of Euro Auctions, reviews the world market of new and used construction equipment and machinery, with an insight to what's hot, what's not and who's buying.
Recent events in the global economy have produced surprising results over the last four years. Like water, used machinery and construction equipment has a way of finding its own level and globally, regardless of manufacturing output, used equipment is highly sought after. This results in new markets and emerging demands dictating where machinery is required in the world.
With Caterpillar Inc releasing impressive recent financials for 2011, the thirst for used machinery and equipment seems unquenchable. At the end of 2011, the expectations for market activity in early 2012 was optimistic, and now with the first quarter (Q1) of 2012 behind us, what is the feeling in the market for the rest of the year and what has the market to offer?
Worldwide
In the downturn, many producers geared down quickly and, with demand now increasing, the winners are those that are able to gear up production efficiently, as the year-end figures from Caterpillar reflect. With the cost of new equipment up by around 20% on prices in June 2009, the used market is still strong. In mid to late 2011, regardless of make, model and year, prices strengthened for late-used and nearly-new equipment, with the strongest rallying in the 12 to 24 month class.
In 2012, the current trend, which is predicted to continue, is that interest in older machines and equipment in the 24 to 48 month class are the next focus on the 'wish list' as market stocks deplete. But what has caused this market shift? Again, showing no sign of fear, Caterpillar will launch 64 new machines in 2012 and will spend $4billion on capital investment.
At Auction
Euro Auctions has repeatedly seen over 30% of all plant sold leaving the UK and Europe for projects in Australia, South Africa, South America, Central America and India. With the UK still looking for large construction or infrastructure projects to commence in the wake of the Olympics, or house building to change up a gear, the future for the used market is overseas. UK prices of good second-hand equipment held through Q1 and look set to hold in Q2.
In 2011, 12 to 24 month old equipment was reaching premium prices, closely followed by good 24 to 48 month old stock. This trend has continued in 2012 with world buyers now being more specific. High in demand is mining and extraction equipment with large dump trucks at the top of the list and anything with approaching 300 hours on the clock are seen as just 'run in,' so many owners are sitting tight as projects end, seeing values rise as demand increases.
Emerging markets are always the first to be seen at auction and India is a regular new participant, with an appetite for small to medium sized construction machines such as backhoes, dumpers, mixers, dozers and excavators.
Demand
European demand has been affected by strengthening Sterling, leaving the UK more expensive than the rest of Europe. In Q1 of 2012 Australia continued its huge demand for crushers, screeners, large dump trucks such as the Volvo a40e, CAT 740, Komatsu hm400 and large excavators in the 50 tonnes plus category.
With peace in North Africa continuing, wheel loaders, generators, backhoes dumpers and mixing plants are in demand and are being hotly contested. It was apparent that much equipment was being shipped through Africa bound for destinations such as India, South America and also Australia.
Due to world demand companies like Caterpillar, JCB, Doosan, Volvo, Terex and many others have reignited production, but certain ranges are like endangered species with CAT 785, 789, 797 hard to find and CAT D10T and D11T almost extinct.
Europe
In Q1 it was still evident that Europe has its problems to solve and economies are faltering: Ireland is still in the doldrums, Italy has slowed right down, with Greece and Spain feeling a lot of pain. The demand for equipment in Europe rallied through 2011, however, in 2012, according to Off-Highway Research, the next 12 months will be flat and could see plant sales drop by 2% across Europe and a further 2% in 2013.
At market, Germany is the largest buyer of construction equipment in Western Europe and during the last 24 months increased acquisition by approximately 70% over 2009. Increased construction output in Eastern Europe is being led by Poland with a 34% increase on output over the previous year, whilst Romania shows 15% and Sweden 7% growth. These figures are reflected by the activity in the market. Decline is led by Slovenia -20%, Portugal -12% and Spain -11.5%.
Overall while Europe has seen a collective 1.4% decline, over 50% of used equipment is leaving the Eurozone for emerging regions. For those who are buying, the most sought after machinery categories across Europe are mini excavators, crawler excavators and telehandlers.
Pacific Rim
Australia continues to be the world's number one client with no let-down in the mining and extraction markets. In the last three months demand from 'down under' has not wavered and the exchange rate between the Australian Dollar and Pound Sterling is still making transactions from the Northern to the Southern hemisphere extremely attractive. In addition, large pipeline projects as well as the ongoing infrastructure works are creating demands for specialised equipment with pipe welding equipment and trenching machines in high demand. The Australian 'cash cow' is still mining, with contractors, operators and dealers seeking good quality low hours equipment.
Q1 was strong in this region with Volvo, Komatsu, CAT and JCB being the preferred makes. In the last three months, New Zealand emerged as a new contender having new found demand for general contracting machinery following the lead from Australia and favouring the same brands.
Asia
Asia is fast becoming a powerhouse in the global economy. Following a positive start to 2012, India is set to become the next newly emerging market. In the next five years India will invest (US) $1.2 trillion in infrastructure projects, including transport, irrigation, oil, gas and telecommunications, which will need equipment and machinery. At market Indian interest is already being seen with smaller construction companies buying good used equipment, predominantly backhoes, telehandlers, compressors and mixers. Make is not important at this stage and older machinery is preferred.
Vietnam is emerging as a new contender in the world buying list, resulting from the nascent economy with major road and infrastructure projects demanding not only all manner of dozers and excavators but general construction machinery, mixing plant and tower cranes. Japan is still recovering and companies like Komatsu, Hitachi and Hyundai that are based in the area and were affected by the tsunami, have seen factories either wiped out or shut down with failing supply chains.
Caterpillar is actively focusing on China as a new target market and as a result the used market is following in the same footsteps. In Q1 this year China has been visible in the global market place, acquiring equipment not only for its own domestic use but to accelerate the growth of extraction of raw materials in Australia.
South America
The news in 2011 that huge infrastructure projects were under way in South America has resulted in a good start to 2012. Recent announcements include 5000 km of new highways under construction in Brazil and four major initiatives worth an estimated US$ 30 billion in Columbia which include highways, seaports, airports, railways and river ways. With mining in Chile, the global message is that heavy construction equipment and mining machinery is on this particular shopping list. World buyers from South America are looking for quality used excavators with Caterpillar and Hitachi being preferred brands.
Middle East
At the end of 2011, analysts predicted that activity in the UAE would flatten during 2012 and contractors would experience a tough 12 months. With cost of labour, material and plant remaining constant in 2012 and with little new infrastructure projects to tender for until 2013, activity has been slow. The value of cancelled construction project in MENA rose by 8% in Q1 of 2012. The result is approximately $719bn of construction works put on the backburner or cancelled altogether, with over 50% of these projects being in the UAE. Heavy equipment destined for infrastructure and cancelled canal projects (777s, 789s and 797s) is now moving out of the Middle East to where it's needed most – Australia.
Where last year the trend was to hang onto machinery until the price changed, that time has now come. With smaller projects still moving forward, there is a need for lighter machines such as graders, dozers, backhoes and wheeled loaders. CAT is still number one and demand has shifted to older models up to the six years old with low hours.
Russia
Russia continues to see growth, which is converting into demand for plant and machinery. Large civil engineering projects, including the 2012 APEC (Asia-Pacific Economic Co-operation) Summit in Vladivostok and the 2014 Winter Olympics in Sochi, are contributing to the need for construction machinery and equipment.
In February, the complicated transportation upgrade was taken a step closer to finalisation with the completion of the main Olympic transportation tunnel. Also, with the 2018 FIFA World Cup being played in Russia the need for improved infrastructure is paramount, with new cities to build and new stadiums and airports to construct.
Russia is actively seeking earthmoving and road building machinery of all makes, models and size. Most sought after machinery for Russia includes backhoe excavators, mobile excavators and tracked excavators.
North & Central Africa
In early 2011 North Africa saw demand for plant and machinery come to a grinding halt due to the 'Arab Spring'. With peace and confidence returning to the region, buyers from Sudan, Egypt, Libya, Algeria and Morocco are trading again. The first quarter of 2012 has seen countries in the region purchasing and demand is increasing. The main machinery requirement is for older models of CAT wheeled loaders, large generators and compressors as well as older model agricultural tractors.
African nations always have interest at auction. In Q1 countries such as Nigeria, Libya, Egypt, Syria, Tanzania, Ghana and South Africa have been buying well. The improvement in these markets has shown a marked interest in larger pieces of equipment. With logging and mining continuing in West Central Africa, currently Ghana and Nigeria have a good appetite for equipment.
International contractors are working in that region and are bringing equipment with them. As was the case in 2011, many of the project crews from China are bringing less than reliable home brands, which is creating a market for more reliable USA and European makes of all equipment. There is also an increasing demand for quarrying equipment, with crushers, screeners and conveyors in high demand.
USA
At auction in the last three months, the American buyers have been more apparent after an absence of some 12 to 18 months. Buyers from the US are looking for large heavy mining equipment for the home open-cast coal and iron ore extraction markets. As a result, big dozers and dump trucks for the contracting market are always on a buyer's shopping list. Older equipment is going from the USA to South America and beyond. America likes CAT, and that's the way it's always been.
Looking to the future
Looking ahead, manufacturers are now producing again and new stock is commanding ever higher prices; there is increasing demand for quality second-hand equipment, with certain models even making a premium. Some new markets are showing real interest and the outlook is generally optimistic.
This all means that the market, while patchy in places, is still going to be buoyant. But it is worth bearing in mind that buyers are also going to be more discerning. As such, it remains important for sellers to pay attention and present used plant and machinery in the best possible condition and be prepared to see it shipped to the parts of the globe that need it most.