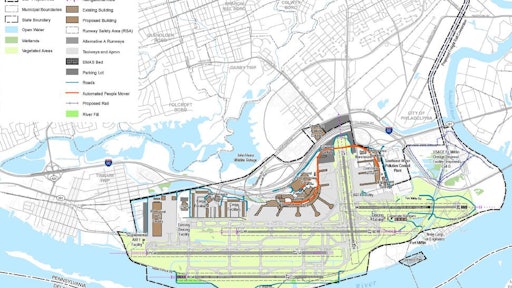 The City of Philadelphia selected the Global Program Partners joint venture, led by CH2M Hill, to manage the $6.4-billion Capacity Enhancement Program (CEP) at the Philadelphia International Airport. Philadelphia's CEP is expected to be the largest new aviation program in the United States and one of the most complex.
The other contractors in the JV, Delon Hampton & Associates (DHA) and CMTS Inc., are certified Minority Business Enterprise firms with recognized skill in program and construction management.
"The Capacity Enhancement Program will be the city's largest economic development effort in a generation, creating tens of thousands of jobs for Philadelphia area residents," said CH2M Hill's International Division President Jacque Rast, serving as principle-in-charge for Global Program Partners. "The Global Program Partners team is committed to seeing that the project's twin priorities—the physical transformation of the airport into a world-class facility, and the economic advancement of the local workforce—are realized."
The CEP, led by CH2M Hill's Jhan Schmitz, is anticipated to take 12 to 15 years to complete, and includes the following major infrastructure improvements:
Construction of one new runway and extension of two existing runways with associated taxiway and navigational improvements
Reconfiguration, upgrade and expansion of the existing terminal in its existing location
Construction of an Automated People Mover for transportation between terminals and parking facilities
Construction of a new centralized ground transportation center, consolidated rental car facilities and associated parking facilities
Construction of new airport support facilities, including aircraft rescue and firefighting, new corporate hangars, a relocated and expanded fuel farm, a new supplemental deicing facility, relocation of the Federal Aviation Administration's Air Traffic Control Tower, a new centralized airport maintenance facility, a new Cargo City facility and relocation of a UPS facility
"The Capacity Enhancement Program is the country's largest and most technically complex airport modernization initiative," said CH2M Hill's program manager Jhan Schmitz. "Workforce development needs will be a main focus for us considering the complexity of this project, with almost every part of the airport being impacted in some way during the life of the program. One of our first tasks will be to develop a jobs plan to ensure an appropriate workforce is available in line with the program schedule and needs."
Headquartered near Denver, Colo., employee-owned CH2M Hill is a global leader in consulting, design, design-build, operations, and program management for government, civil, industrial and energy clients. The firm's work is concentrated in the areas of water, transportation, environmental, energy, facilities and resources, with $6.4 billion in revenue and 30,000 employees.