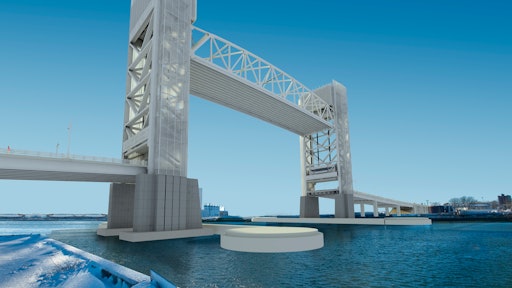 The MassDOT board of directors awarded its largest contract ever, a $244.6 million design-build contract for the replacement of the Fore River Bridge to White-Skanska Koch, J.V. The bridge carries Route 3A over the Fore River and links the communities of Quincy and Weymouth.
"The current bridge has served commuters well beyond its useful life," said MassDOT Highway Administrator Frank DePaola. "The new vertical lift moveable bridge will allow for two lanes of traffic in each direction and will incorporate our Complete Streets vision with 5-ft. bike lanes and 6.5-ft. sidewalks on each side."
The Fore River Bridge Replacement Project is one of five MassDOT Mega Projects in the Patrick-Murray administration's Accelerated Bridge Program (ABP). In Worcester and Shrewsbury, the Kenneth F. Burns Bridge Replacement Project is under construction.
Within the next six months, bid openings are scheduled for MassDOT's remaining Mega Projects. All will be in the construction phase in 2013:
The Whittier Bridge over the Merrimack River and I-95 Improvement Project in Amesbury, Salisbury and Newburyport
The Longfellow Bridge Rehabilitation Project over the Charles River
The Route 79/I-195 Improvement Project in Fall River aka 'Spaghetti Ramps'
As of June 1, 2012 the ABP Program has completed 90 bridge projects, with another 72 bridges currently in construction, and an additional 25 bridge projects scheduled to start construction within the next year. The eight-year program plans to repair or replace more than 200 bridges.
Since 2008, the number of former MassHighway and Dept. of Conservation and Recreation structurally deficient bridges has dropped from 543 to 439, a decline of 19.2 percent.