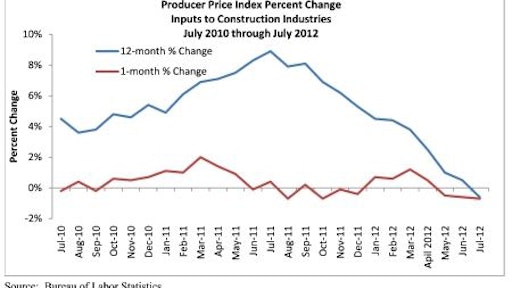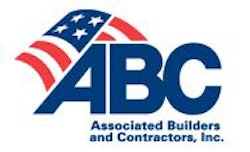 Construction materials prices declined 0.7 percent in July, according to the Aug. 14 Producer Price Index report by the U.S. Department of Labor. On a yearly basis, construction materials prices are down 0.6 percent - the first year-over-year decline since November 2009, when nonresidential construction spending was at its lowest point.
Nonresidential construction materials prices also are down, falling 0.9 percent for the month and 1.2 percent for the year.
Prices for iron and steel dropped 3.7 percent for the month and are 9.7 percent lower on a yearly basis
Softwood lumber prices fell 3.7 percent in July but are still 5.9 percent higher than in July 2011
Steel mill product prices decreased 2.8 percent for the month and are down 5.9 percent year over year
Prices for fabricated structural metal products slipped 1 percent for the month and are up 0.1 percent during the past 12 months
Prices for prepared asphalt, tar roofing and siding surged 5.4 percent for the month but are still down 3.8 percent year over year
Nonferrous wire and cable prices increased 0.5 percent for the month but are down 8.9 percent from July 2011
Prices for concrete products are up 0.3 percent for the month and are 1.8 percent higher year over year
Prices for plumbing fixtures and fittings inched up 0.1 percent in July and are 1.2 percent more expensive than one year ago
Crude energy materials prices increased 0.6 percent in July, the first monthly increase since February 2012. Year over year, crude energy materials prices are down 19.1 percent.
Overall, the nation's wholesale goods prices increased 0.3 percent for the month and are 0.5 percent higher than in July 2011
"Today's construction materials price report should be viewed by the nonresidential construction industry as good news," said ABC Chief Economist Anirban Basu. "Prices of a number of key inputs declined significantly last month, including steel mill products, iron and steel, and softwood lumber. Lower construction materials prices translate into more attractive project pro-formas, which in turn make it more likely that a project will be financed and move forward.
"While it is true that last month's decline in materials prices is a reflection of a still-sluggish economic environment, there are reasons for growing optimism," said Basu. "For example, much of the economy's lackluster performance can be attributed to ongoing uncertainty emerging from Washington, D.C., including the looming fiscal cliff. If Congress acts soon to create greater certainty around federal budgetary and taxation issues, the level of business certainty would increase meaningfully. That would result in the availability of more risk-seeking capital to finance projects.
"Anecdotal and survey information indicate that bankers are becoming more aggressive in their lending," Basu said. "Lower and more stable materials prices are associated with less risky construction, and permanent loans and are more likely to attract capital to construction projects. This means that for the first time in several months, more robust recovery in nonresidential construction spending is conceivable. However, Congress and the administration still must act appropriately before capital becomes sufficiently risk-seeking."
Companies in this article