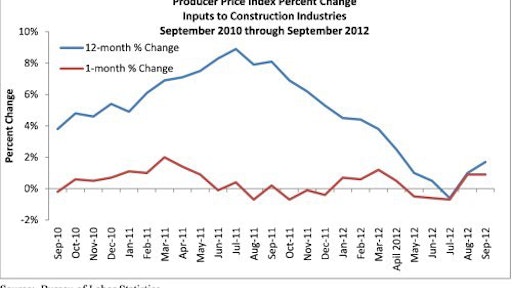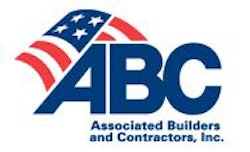 For the second month in a row, the nation's construction materials prices rose and were up 0.9 percent in September, according to the October 12 producer price index report by the U.S. Labor Department. Materials prices are up 1.1 percent from the previous quarter. Year over year, construction materials prices are up 1.7 percent. Nonresidential construction materials prices were up 1.2 percent for the month, up 1.3 percent for the quarter and 1.6 percent higher than the same time last year.
August 2012: Rising Oil and Commodity Prices Raise Construction Materials Prices
Metallic construction material prices
Steel mill product prices increased 1% for the month but are 4.3% lower from the second quarter and 7.1% lower from one year ago.
Fabricated structural metal products increased 0.6% in September but are 0.7% lower from three months ago and 0.4% higher compared to the same time last year.
Iron and steel prices rose 0.5% for the month but are down 2.9% for the quarter and are 8.9% lower from September 2011.
Plumbing fixtures and fittings increased 0.5% for the month, are up 0.7% for the quarter and are 1.6% higher compared to one year ago.
Nonferrous wire and cable prices fell 1.3% for the month, are down 0.3% over the past three months and are 6.9% lower than the same time last year.
Nonmetallic construction materials prices
Softwood lumber prices jumped 2.6% in September, are 2.2% higher from three months ago and 11.7% higher compared to the same time last year.
Prepared asphalt, tar roofing and siding increased 0.3% for the month, were up 3.8% for the quarter but remained 3.9% lower from one year ago.
Concrete product prices inched up 0.1% in September, edged up 0.9% for the quarter and were up 2.1% from September 2011.
Crude energy materials prices increased 4.4 percent in September, driven primarily by an 11.4 percent gain in crude petroleum prices. Over the quarter, crude energy materials prices rose 15.2 percent. However, crude energy materials prices are down 6.1 percent from the same time last year. Overall, the nation's wholesale goods prices rose 1.1 percent in September, were up 3.1 percent for the quarter and are 2.2 percent higher from one year ago.
"This month represented a second consecutive month of construction materials price increases," said Associated Builders and Contractors Chief Economist Anirban Basu. "Based purely on macroeconomic data, it would have been logical for materials prices to fall given the recent news of ongoing global economic deceleration, including major Asian and Latin American economies.
"The trials and tribulations of the European economy are well known, and U.S. and Japanese growth remain highly constrained," Basu said. "Still, some of the increases in materials prices were quite large last month, including in categories such as fabricated structural metal products and steel mill products. Over the past year, materials prices are up just 1.6 percent but roughly three quarters of that is explained by the last month alone.
"There is precedent for this type of counter-intuitive response," said Basu. "Many construction industry participants will remember early 2008, a period during which the global economy was decelerating and materials prices were surging. There are likely some parallels between that period and our current economic situation.
"With investors becoming increasingly jittery about events in Europe, the Middle East and the United States, more money may be pouring into the commodity segments and less into stocks and bonds," Basu said. "Policy announcements, including the latest word from the Federal Reserve on a third quantitative easing proposal, may accelerate the flow of money into commodities, resulting in higher prices in the absence of expanding global demand.
"We may be in a period during which materials prices are set to increase, despite a lack of robust economic growth," said Basu. "Under various scenarios, financial markets could exhibit significant volatility going forward, causing some investors to place additional funds into hard assets like steel, oil, and copper. This would not be supportive of a construction spending recovery as projects become more expensive."
View the August 2012 Producer Price Index report.
Companies in this article