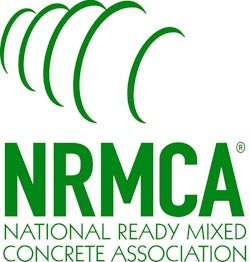 The National Ready Mixed Concrete Association (NRMCA) has awarded a Green-Star Certification to Superior Concrete Materials for its South Capitol Street Plant #2 in Washington, D.C., the first time a ready mixed concrete plant has earned the designation in the nation's capital.
The NRMCA Green-Star Program has been designed by the Environmental Task Group of NRMCA's Operations, Environmental and Safety Committee, in collaboration with the U.S. Environmental Protection Agency, as a means to support the efforts of the ready mixed concrete industry toward environmental excellence, through the recognition of an Environmental Management System (EMS) as a tool for environmental benchmarking and continual improvement. It also is a means to recognize those concrete producers that adhere to essential principles of the environmental and sustainability movement of our industry.
As a responsible corporate citizen, a company that maintains an NRMCA Green-Star plant is dedicated to compliance beyond legal requirements. Companies must integrate sound environmental practices into their business decisions. An effective NRMCA Green-Star Program is based on the integration of risk-based cost-effective management practices into site activities with the aim of continually improving environmental performance. For example, a site will strive to achieve the following objectives through continued execution of an EMS:
Comply with all applicable environmental laws and regulations.
Assign management responsibility for the environment in all areas of the facility and ensure that all employees are aware of their individual responsibilities for acting in accordance with the NRMCA Green-Star program, while providing effective information and training to encourage individuals to contribute effectively toward a goal of continual improvement.
Implement effective pollution prevention practices in accordance with a hierarchy; giving top priority to pollution prevention at the source, elimination or reduction of pollution and, finally, recycling whenever possible.
Maintain good communications with the local community and cooperate with legislators, regulators and other organizations with an interest in environmental performance.