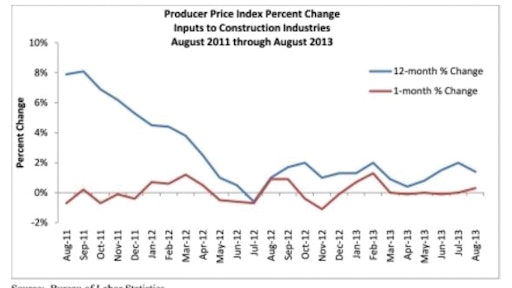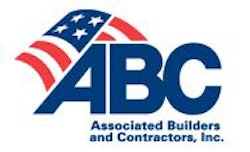 Construction materials prices rose only 0.3 percent in August and are up 1.4 percent year over year, according to the September 13 Producer Price Index release by the Department of Labor. In addition, nonresidential construction materials increased 0.5 percent for the month and are 1.2 percent higher than one year ago.
"In a world characterized by additional looming warfare, fluctuating global currencies, rising U.S. interest rates and plunging gold prices, one would expect much more volatility in materials prices," said Associated Builders and Contractors Chief Economist Anirban Basu. "Despite all of those shifting factors, construction materials prices remain remarkably stable, which is noteworthy given the price volatility experienced in 2004 and 2008."
Overall, the nation's wholesale goods prices rose 0.3 percent in August and are 1.4 percent higher year over year.
"The outlook for the global economy is now improving," Basu said. "Europe has exited its recession, and growth in China appears to be firming. The consensus 2014 forecast for the United States also calls for more rapid growth, implying that the pace of materials price increases is likely to accelerate.
"That said, relative stability in month-to-month prices may continue," Basu said. "It is worth noting that the monthly change in prices was less than 1 percent in absolute value for many categories, including iron and steel, concrete products and steel mill products."
The following materials prices increased in August:
Fabricated structural metal products, which edged up 0.2 percent and have risen 0.2 percent on a year-over-year basis
Softwood lumber prices, which climbed 2.4 percent after falling for three consecutive months and are 9.9 percent higher than one year ago
Nonferrous wire and cable prices, which rose 0.3 percent but are down 3 percent from August 2012
Steel mill products prices, which edged 0.1 percent higher but remain 3.4 percent lower than one year ago
Concrete products, which are 0.1 percent higher for the month and are up 3.1 percent on a yearly basis
A number of key construction inputs did not experience price increases for the month.
Crude energy prices fell 2.7 percent in August but are 10.3 percent higher annually
Crude petroleum prices fell 1.2 percent
Prices for plumbing fixtures and fittings decreased 0.6 percent but are up 2.4 percent on a year-over-year basis
Prices for prepared asphalt, tar roofing and siding fell 0.8 percent for the month but are 5.4 percent higher than August 2012
Iron and steel prices decreased by 0.1 percent and remain 3.4 percent lower than the same time last year
View the July 2013 PPI report.
Companies in this article