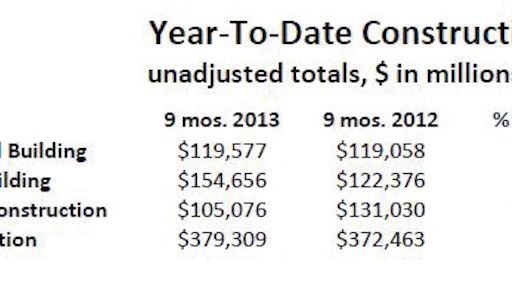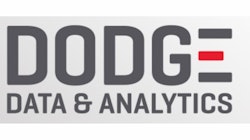 New construction starts in September advanced 13 percent to a seasonally adjusted annual rate of $556 billion, according to McGraw Hill Construction. For the first nine months of 2013, total construction starts on an unadjusted basis were reported at $379.3 billion, up 2 percent from the same period a year ago.
Nonresidential building bounced back after losing momentum in August, and the nonbuilding construction sector was lifted by the start of several large power plants, which ran counter to the sharply downward trend for electric utilities that's been present during 2013. If electric utilities are excluded from the year-to-date statistics, total construction starts in the first nine months of 2013 would be up 11 percent.
September data raised the Dodge Index to 118 (2000=100), up from 104 in August and the highest reading for the Index so far in 2013. From January through August, the Index had hovered within the fairly narrow range of 98 to 107.
"The overall level of construction activity will be affected by the presence of large projects in any one given month, and that was certainly the case in September," stated Robert A. Murray, vice president of economic affairs for McGraw Hill Construction. "While the extent of September's gain overstates the current health of construction, the latest month did provide positive news for nonresidential building which continued the up-and-down pattern that's occurred during 2013. The September gain for nonresidential building reflected the manufacturing plant category posting a strong increase, commercial building staying close to its recently improved pace, and several institutional structure types rising from previously weak levels.
"After the downward trend that's been underway from 2009 through the first half of 2013, the institutional building sector may now be starting to stabilize, which is necessary for total nonresidential building to register growth," Murray added. "At the same time, the recent Congressional impasse over federal appropriations for fiscal 2014 and raising the debt ceiling only adds to the sense of uncertainty, which hampers renewed expansion for nonresidential building going forward."
Nonresidential building in September jumped 24 percent to $182.8 billion (annual rate). The manufacturing plant category soared 289 percent, boosted by an $800 million ammonia production facility and a $615 million steel mill, both located in Louisiana. Commercial building in September receded 3 percent following its 4 percent gain in August, due to a mixed pattern by project type. Hotel construction in September increased 9 percent, supported by the start of a $75 million hotel resort in Anaheim, CA, while office construction edged up 1 percent. Large office projects that reached groundbreaking in September included a $435 million office campus for Facebook in Menlo Park, CA, a $139 million county government office building in Van Nuys, CA, and a $129 million renovation of a financial services office building in Des Moines, IA. Store construction in September held steady with its August amount, helped by $75 million for the retail portion of the $460 million Millennium Tower mixed-use building in Boston, MA. The commercial building total in September was pulled down by a 34 percent drop for warehouse construction.
Institutional building in September advanced 24 percent, rebounding after a 17 percent decline in August. The healthcare facilities category, which has been lackluster for much of 2013, jumped 144 percent. There were four large hospital projects that reached groundbreaking in September – a $437 million replacement hospital at Fort Bliss in El Paso, TX, a $323 million cancer treatment center in Omaha, NE, a $250 million hospital tower in Oak Lawn, IL, and a $200 million medical center in Birmingham, AL. The educational building category in September grew 13 percent, aided by these projects – a $93 million two-building complex at Montclair State University in Montclair, NJ, an $82 million public library in Austin, TX, and a $74 million teaching and learning center at U.C.L.A. in Los Angeles, CA. For the smaller institutional categories, both public buildings and churches showed improvement in August, climbing 36 percent and 18 percent respectively. Decreased activity in September was reported for amusement-related projects, down 27 percent; and transportation terminals, down 46 percent.
Nonbuilding construction, at $169.9 billion (annual rate), increased 33 percent in September. Electric utility construction surged 466 percent after a weak August, departing from the declining trend experienced during most of 2013. Large electric utility projects that reached the construction-start stage in September included a $1.9 billion wind energy farm in Iowa, a $1.1 billion natural gas power plant in Virginia, a $700 million solar power facility in Nevada, and a $260 million transmission line grid in New Jersey. The public works categories combined dropped 4 percent in September, as bridge construction fell a steep 61 percent from its elevated August amount, which included several very large projects. The remaining public works categories in September showed gains relative to August. River/harbor development jumped 55 percent, lifted by $615 million for canal work in the New Orleans, LA, area. Sewer construction advanced 23 percent, while water supply systems increased 12 percent. The miscellaneous public works category, which includes site work, rose 13 percent in September with the support of $360 million for site work at the planned Manhattan West complex in New York, NY.
Residential building in September dropped 6 percent to $203.2 billion (annual rate). Multifamily housing fell 14 percent, pulling back after rising by the same percentage during August.
Large multifamily projects that reached groundbreaking during September included the following – $334 million for the multifamily portion of the Millennium Tower mixed-use project in Boston, MA, a $157 million multifamily tower in Long Island City, NY, a $133 million multifamily tower in Chicago, IL, and a $120 million multifamily tower in Boston. Through the first nine months of 2013, the leading metropolitan areas for multifamily construction starts (ranked by dollar volume) were the following – New York, NY, Boston, MA, Washington, DC, Miami, FL, and Los Angeles, CA.
Single family housing in September slipped 3 percent, registering its first month-to-month decline in dollar terms since January. The September level of activity for single family housing was still healthy by recent standards – up 9 percent from January and 27 percent higher than the average monthly pace reported during 2012. By geography, single family housing in September showed modest declines in all five regions – the Midwest, down 1 percent; the South Atlantic, down 2 percent; the Northeast, down 3 percent; the South Central, down 4 percent; and the West, down 5 percent.
The 2 percent gain for total construction starts on an unadjusted basis during the January-September period of 2013 reflected a mixed pattern by the three main construction sectors. Nonresidential building matched the amount reported during last year's first nine months, due to this behavior by segment – commercial building, up 9 percent; manufacturing building, up 1 percent; and institutional building, down 5 percent. Nonbuilding construction year-to-date fell 20 percent, as a 63 percent plunge for electric utilities far outweighed a slight 2 percent gain for public works. Residential building advanced 26 percent year-to-date, with single family housing up 29 percent and multifamily housing up 17 percent.
By geography, total construction starts during the first nine months of 2013 showed gains in three of the five major regions – the Northeast, up 13 percent; the West, up 7 percent; and the Midwest, up 6 percent. The South Central retreated 2 percent, while the South Atlantic dropped 10 percent. The South Atlantic decline reflected the comparison to the first nine months of 2012 that included the start of two large nuclear facilities. If electric utilities are excluded from the year-to-date construction statistics in the South Atlantic, then total construction for that region in 2013 would show a 16 percent gain.