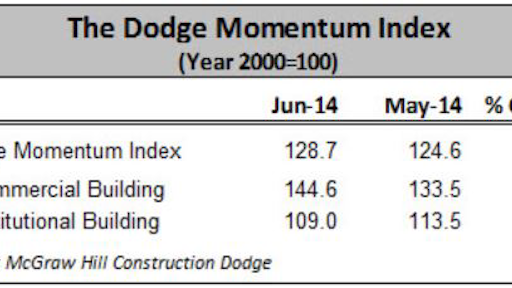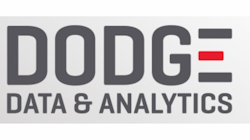 The Dodge Momentum Index gained 3.3% in June to 128.7 (2000=100), its third consecutive monthly increase following hesitation in February and March, according to McGraw Hill Construction.
The Momentum Index is a monthly measure of the first (or initial) report for nonresidential building projects in planning, which have been shown to lead construction spending for nonresidential buildings by a full year.
McGraw Hill says the Momentum Index appears to be recovering from the weather-induced softness early in the year. Aided by this recent strengthening, the Momentum Index was a healthy 22.6% higher in June than a year earlier. Moreover, the growing volume of projects at the planning stage suggests that nonresidential construction starts should be headed higher over the remainder of the year.
This month's increase in the Momentum Index was the result of a 8.3% surge in commercial building plans. Five commercial projects valued at $100 million or more entered planning in June to support the increase. These include the $250 million Kroger Distribution facility in Forest Park, Ga., the $200 million Skyplex Retail and Entertainment Complex in Orlando, Fla., a $200 million hotel at the Maryland Live Casino location in Hanover, Md., a $100 million warehouse at the LogistiCenter in Logan, N.J., and the $100 million retail portion of The Haven Outlet Shops in West Haven Ct.
Institutional construction planning retreated 4.0% in June.