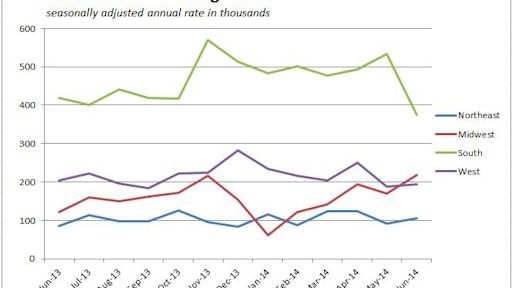 U.S. building permits fell 4.2% despite a 2.6% advance in single-family permits issued
Both starts and permits were higher in the second quarter of 2014 than the first
On its face, this looks like a poor report. After a lengthy winning streak, the multifamily sector seems to be undergoing a small correction. Meanwhile, single-family starts fell back below the 600,000 mark. Plus, revisions to the past three months' worth of data brought total starts for the year down 21,000 units.
Upon closer inspection, the entirety of the drop in single-family starts came from the South; starts ticked up in all other regions of the country. But can we expect the South to post an advance in starts next month?
Single-family starts in the South averaged just over a 330,000-unit-per-year pace between June 2013 and May 2014. Single-family permits in the South averaged nearly a 330,000-unit-per-year pace in the 12 months leading up to June. And there were 330,000 single-family permits issued in the South in June. So numerically, the chances of a southern recovery in July look good.
But the South's housing market may be shifting.
Until now, a large share of new construction in the South has been made up of lower-priced homes, but the market may be bumping up against affordability constraints. Recent mortgage-rate increases – however slight – might be cutting into sales.
Year-on-year average price growth has been slowing for the past few quarters, and prices for the average Southern single-family home peaked in the third quarter of 2013. However, median prices continue to advance at double-digit rates, indicating that builders have fewer incentives to produce lower-end homes in this region.
However, this report does contain good news. Single-family building permits rose 2.6%, a second consecutive advance. Upon closer inspection, it looks like the single-family market in the Midwest may be approaching escape velocity: permits rose to 110,000 in June, the highest level seen since January 2008. This is a promising sign.
What Recovery? Home Building Took a Dive in June
What makes the June results particularly disappointing is that some of the excuses for weak housing numbers -- excuses that reassure us that the housing recovery is still on track -- don't hold water any more