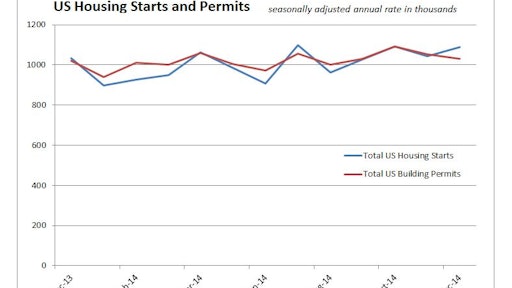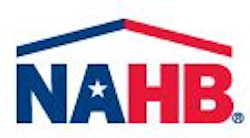 Led by a 7.2% gain in single-family housing production, nationwide housing starts rose 4.4% in December to a seasonally adjusted annual rate of 1.089 million units. Data from the U.S. Commerce Department also showed overall housing starts for 2014 topping 1 million units for the first time since 2007.
"Today's figures continue to be in line with our recent surveys, as builders have been becoming increasingly optimistic," said Kevin Kelly, chairman of the National Association of Home Builders (NAHB) and a home builder and developer from Wilmington, Del.
Upward revisions to October and November starts boosted full-year 2014 starts to 1,005,800 units.
"We expect this momentum to carry forward in 2015," said NAHB Chief Economist David Crowe. "A growing labor market and strengthening economy will spur steady growth in single-family housing production in the year ahead."
Single-family housing production rose 7.2% to a seasonally adjusted annual rate of 728,000 in December. Multifamily starts edged 1% lower to 361,000 units. For the year, though, multifamily starts were up 16% to 358,000, also the highest level since 2007.
Combined single-family and multifamily production was up in three out of four regions in December:
Northeast: +12.5%
South: +8.8%
West: +5.8%
Midwest: -13.3%
Overall permit issuance was down 1.9% in December to a rate of 1.032 million. Single-family permits rose by 4.5% to 667,000 units while multifamily permits fell 12% to a rate of 365,000 units.
Regionally, permits were mixed in December:
Midwest: +6.7%
South: +9.6%
Northeast: -16.8%
West: -20.5%