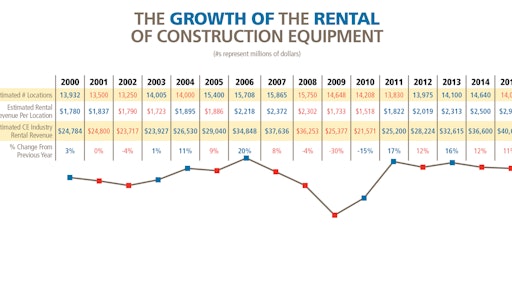 The U.S. construction equipment rental business is on a tear. I estimate 2014 total rentals of construction equipment will be $36.6 billion, a gain of 12 percent compared with 2013. I further estimate rentals will reach $40.6 billion in 2015 at a growth rate of 11 percent.
The large national rental companies turned in an impressive performance through the third quarter of 2014, reporting top line revenues up 12.4 percent and profits up an impressive 20.7 percent. Today's business environment is conducive to rentals, thanks to economic uncertainty, a strong nonresidential construction market (expected to be up 10 percent in 2014 and up 10 to 12 percent in 2015), improving housing starts (about 1 million starts in 2014 and an expected 1.2 million starts in 2015), customer confusion and concern with the new EPA-mandated engines being installed in new equipment, and labor shortages that make it a smart move to rent specialized equipment to improve labor productivity.
Trending upward
The industry's expansion has also been enhanced by larger rental companies adding specialty stores. For example, United Rentals has opened about a half dozen new locations that cater to oil field customers. Some rental companies are specializing in renting portable heating and air conditioning units, an equipment category that didn't exist a few years ago.
Rental industry growth has been underpinned by a strong U.S. economy. The U.S. economy has grown above the long-term trend of 3 percent per year for most of 2014. Real gross domestic product - the value of the production of goods and services in the United States, adjusted for price changes - increased at an annual rate of 3.9 percent in the third quarter of 2014. In the second quarter, real GDP increased 4.6 percent.
In total, we believe there are 14,000 U.S. locations that rent construction equipment. Furthermore, we estimate the average rental revenues per outlet approached $3 million. For the big chains, rentals per location ranged from $5.5 million at Neff Rentals to $3.8 million at United Rentals. The overall total was pulled down by revenues per outlet of small rental companies and by rentals by authorized selling dealers for the various manufacturers. Our estimate for total rentals is shown in the accompanying chart.
New developments
There have been a few interesting changes in the industry this year. Neff became a public company and floated an initial public offering (IPO) in November. The company had hoped to sell slightly more than 10 million shares at $20 to $22 per share. The stock was finally offered at $15 per share which is where it has remained since its opening. Hertz still has not issued a report for any period in 2014. The company stated it found improprieties in its accounting for prior years. The CEO was replaced and Carl Icahn, the famous corporate raider, purchased a large block of stock and placed some of his own directs on the board. As a result, the company's spin off of Hertz Equipment Rental Corporation (HERC) has been delayed until the financial restatement issues are resolved.
I believe there will be more rental company consolidations in 2015. The consolidations most likely will be strategic by companies already in the business rather than financial buyers.