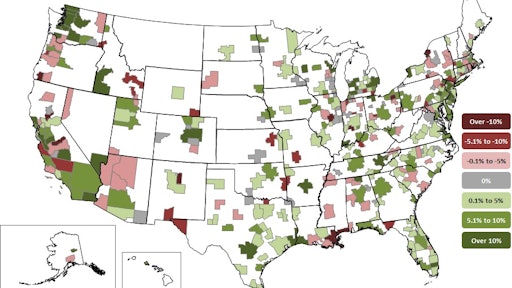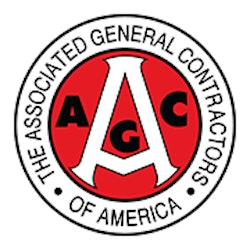 Construction employment expanded in 205 metro areas, declined in 101 and was stagnant in 52 between May 2014 and May 2015, according to a new analysis of federal employment data released today by the Associated General Contractors of America. Association officials noted even though the majority of metro areas are still adding construction jobs, the number of gainers has decreased to the lowest level since April 2013.
"Although contractors are continuing to add workers in many parts of the country, construction employment stagnated or shrank in nearly half of all metro areas over the past year," said Ken Simonson, the association's chief economist. "With Washington unable to figure out how to finance infrastructure and a number of large energy projects getting put on hold, the sector's recovery appears to be slowing in certain parts of the country."
Seattle-Bellevue-Everett, Wash. added the largest number of construction jobs in the past year (11,300 jobs, 15 percent), followed by:
Denver-Aurora-Lakewood, Colo. (10,400 jobs, 12 percent)
Warren-Troy-Farmington Hills, Mich. (8,100 jobs, 19 percent)
Los Angeles-Long Beach-Glendale, Calif. (7,500 jobs, 6 percent)
The largest percentage gains occurred in:
Wenatchee, Wash. (30 percent, 600 jobs)
Bellingham, Wash. (23 percent, 1,300 jobs)
Atlantic City-Hammonton, N.J. (22 percent, 1,100 jobs)
Huntsville, Ala. (19 percent, 1,400 jobs)
Warren-Troy-Farmington Hills
The largest job losses from May 2014 to May 2015 were in New Orleans-Metairie, La. (-3,200 jobs, -10 percent), followed by:
Gulfport-Biloxi-Pascagoula, Miss. (-2,600 jobs, -25 percent)
Orange-Rockland-Westchester, N.Y. (-1,800 jobs, -5 percent)
Akron, Ohio (-1,300 jobs, -10 percent)
El Paso, Texas (-1,300 jobs, -9 percent)
The largest percentage decline for the past year was in Gulfport-Biloxi-Pascagoula, followed by:
Santa Fe, N.M. (-19 percent, -500 jobs)
Bloomington, Ill. (-14 percent, -400 jobs)
Madera, Calif. (-14 percent, -200 jobs)
Association officials urged Congress and the Obama administration to find a way to finance needed infrastructure improvements, including transportation and clean water systems. They added that the political uncertainty was undermining the construction industry's recovery, which is already being negatively impacted by other factors, such as declining demand for energy projects.
"Fewer metro areas are likely to continue adding construction jobs if Congress and the White House can't figure out a way to pay for needed new infrastructure investments," said Stephen E. Sandherr, the association's chief executive officer. "The irony is that by neglecting our public infrastructure, our leaders in Washington are hurting private sector employment."
View construction employment figures by state and rank.