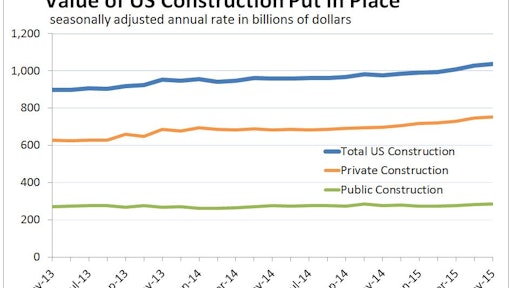 U.S. construction spending hit a new post-recession peak in May, lifting 0.8% from April to a seasonally adjusted annual rate of $1,035.8 billion according to U.S. Census Bureau estimates. The May 2015 figure is 8.2% above the May 2014 estimate of $957.6 billion.
Construction spending has grown steadily since December, and May's estimate is its highest level since November of 2008.
During the first five months of this year, construction spending amounted to $382.1 billion, 5.9% above the $360.8 billion for the same period in 2014.
Manufacturing, the construction sector that saw the most May spending, grew 6.2% in May to a $90.3 billion annual rate, nearly 70% greater than May of 2014.
Amusement and recreation, lodging, and conservation and development have posted sector spending gains since May 2014 in the 27% to 30% range.
Power construction has fallen nearly 24% since 2014.
Private Construction
May spending on private construction was at a seasonally adjusted annual rate of $752.4 billion, 0.9% above the revised April estimate of $745.6 billion.
Residential construction was nearly static at a seasonally adjusted annual rate of $359.5 billion in May, but is 7.8% above the May 2014 level.
Nonresidential construction spending rose 1.5% to an annual rate of $392.8 billion in May, and is 12.7% above May 2014.
Public Construction
Public construction spending rose in May just 0.7% to an annual rate of was $283.4 billion, and is 2.8% greater than May 2014.
The biggest public-construction spending, highway and street construction, rose 2.1% to an $85-billion annual pace, 1.7% higher than a year ago. Educational construction lifted 0.7% to an annual rate of $65.3 billion, 3.4% more than in 2014.
The Wall Street Journal reports Morgan Stanley bumped its estimate for second-quarter U.S. GDP to 2.8% from 2.7% after the construction spending release. However Barclays, citing a downward revision for state and local construction spending, knocked one-tenth of a point off its estimate, which now stands at 3%.