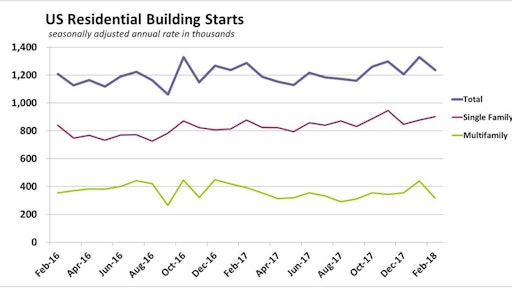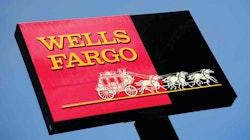 Despite a 7% drop in overall U.S. housing starts in February, new home construction continues to gradually build momentum. All of the month's drop was in multifamily starts, which are notoriously volatile and are primarily driven by apartment construction. Multifamily starts tumbled 26.1%, following a 25.6% gain in January.
Apartment construction has been unusually volatile the past few months. Deliveries have increased significantly, which has pushed vacancy rates modestly higher and caused rents to ease a bit. Demand for apartments remains strong, however, and apartment development is picking up in many secondary and tertiary markets that had not seen much development during the earlier boom.
Single-family starts rose 2.9% in February, following a 3.5% rise in January. The winter months are normally a slow period for new home construction, but unseasonably mild winter weather and the lack of new homes available for sale have allowed for more construction to get underway, particularly in the supply starved West and South.
Through the first two months of this year, single-family starts are running 7.8% ahead of their year ago pace. Starts in the West through February are up 30.8%, with much of the gain likely coming from California, Arizona and Nevada. Single-family starts are up 7.4% in the South through February but are down 1.6% in the Northeast and a whopping 26.2% in the Midwest, where the weather has been more typical of past winters.
The South and West account for the overwhelming majority of single-family housing starts. The two regions were responsible for 77% of the nation's single-family starts in 2017 and accounted for a like-sized share of completions. Job growth remains exceptionally strong in both regions, which continues to fuel a steady stream of relocations to the areas. Affordability is becoming a challenge for many parts of the region. Rising home prices have set off an affordability migration back toward California's interior. The Inland Empire is one of the biggest beneficiaries, and starts are up solidly over the past year. Inflows of retirees to Florida, Arizona and Nevada have also increased, as more boomers reach retirement age and tax reform prompts more people to move forward with plans to relocate.
The sluggish pace of the housing recovery has been noted repeatedly over the past few years. New home construction has been held back by shortages of buildable lots and skilled construction workers. Higher building material prices in the wake of the resumption of tariffs on imports of Canadian softwood lumber and rising prices for petroleum-based products have also made it harder to build entry-level homes.
The tide appears to be turning somewhat, with completions of single-family homes trending higher over the past year. Profits margins are still being crimped, however, and affordability is being constrained further by higher mortgage rates.