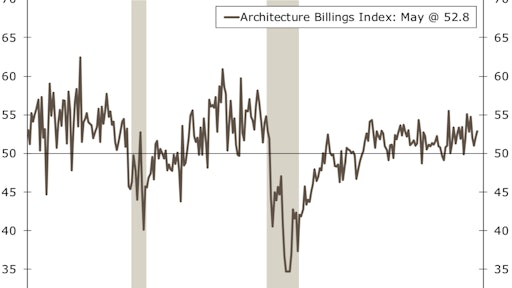 Wells Fargo Securities
Architecture firm billings grew in May, marking the eighth consecutive month of solid growth, according to a new American Institute of Architects (AIA) report.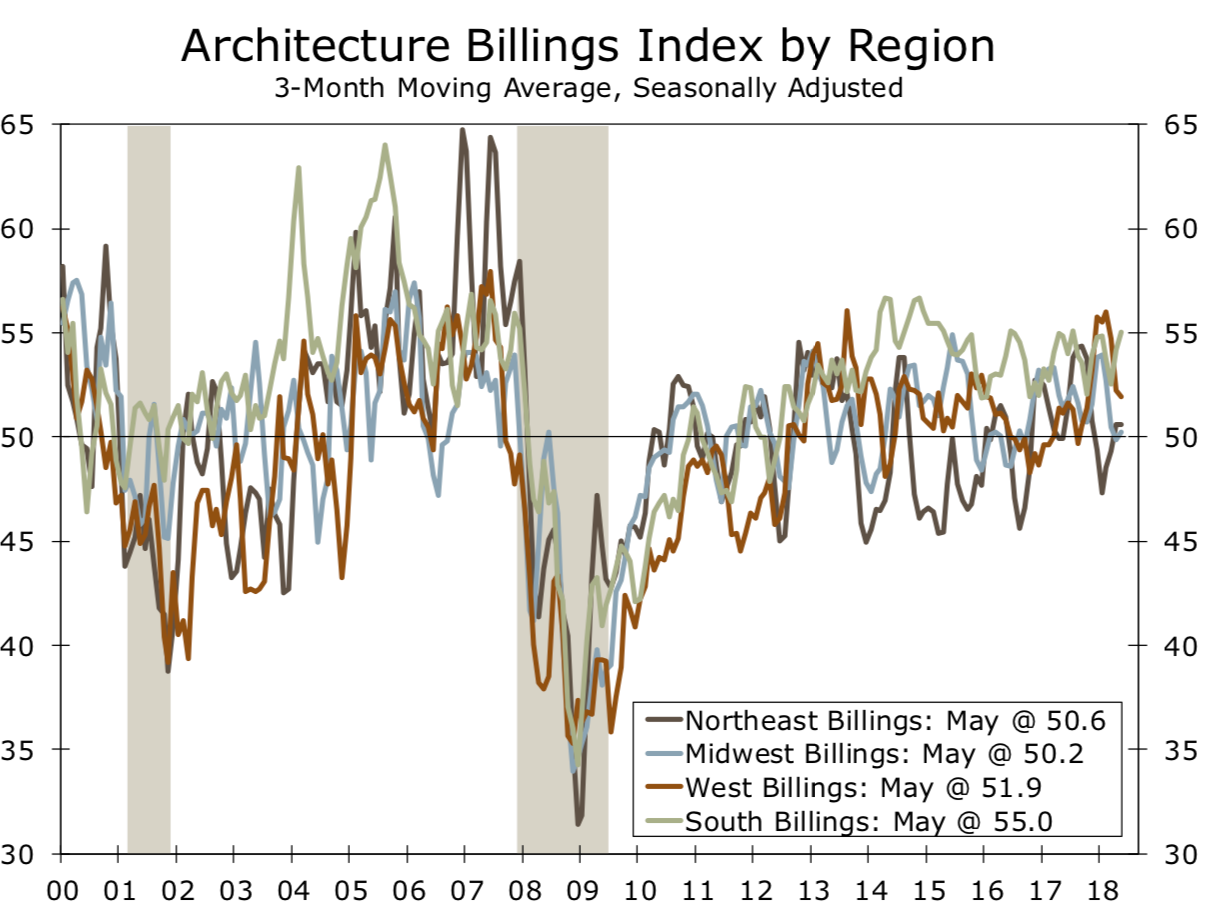 The South and West maintained their rank as the strongest two regions for architecture billings for a seventh straight month. The Midwest index, which has been lagging, rose above 50 in May, putting all four regions in expansion territory.Wells Fargo Securities

Overall, the AIA's Architecture Billings Index (ABI) score for May was 52.8 (any score over 50 is billings growth), which shows that demand for services from architecture firms continues to be healthy. The ABI also indicated that business conditions remain strong at firms located in the South and West, while growth in billings was modest at firms in the Northeast and Midwest.
The project inquiries index was at 59.3 in May while the design contracts index was at 53.3 for the month. Both of these indexes were higher compared to their April readings.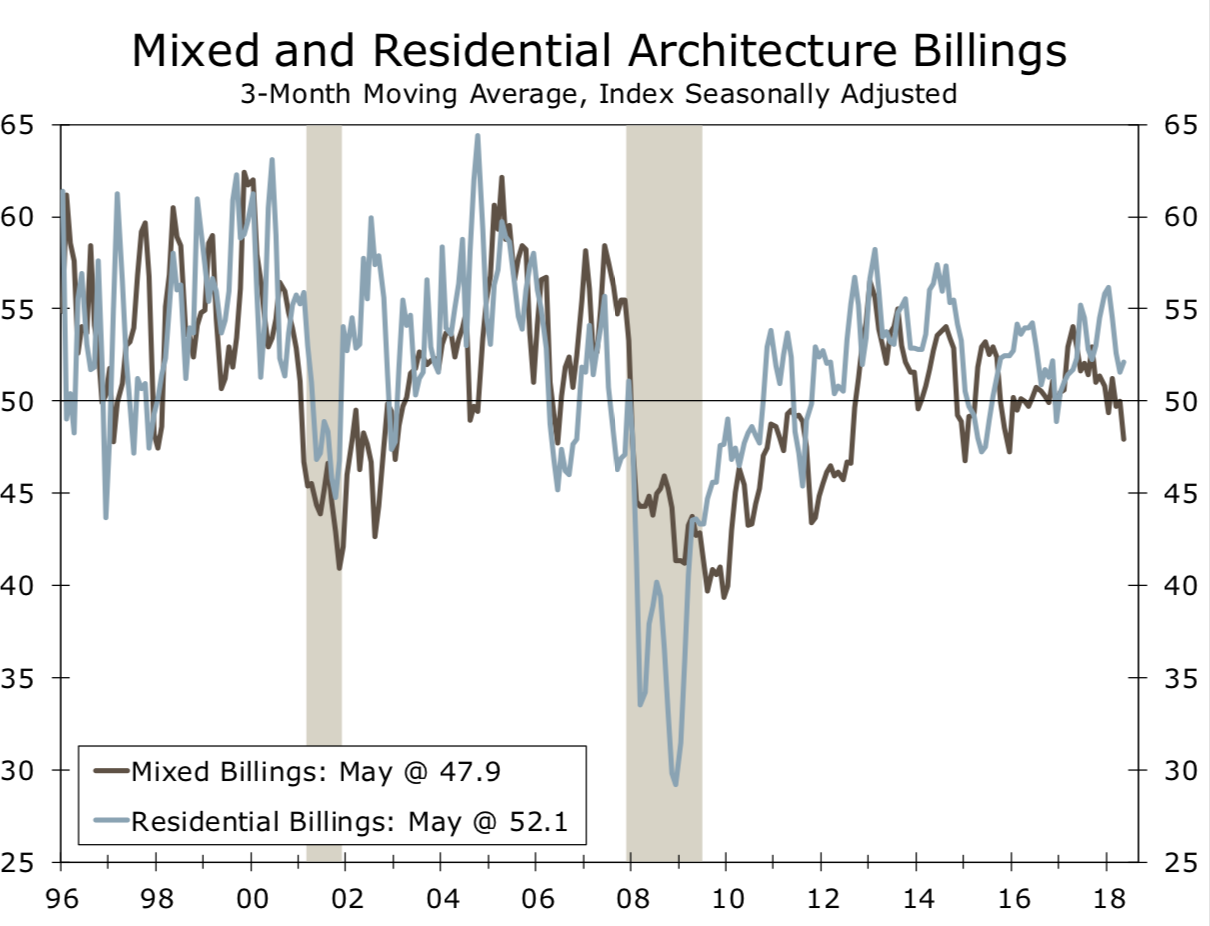 While the ABI has lost some ground since reaching a recent high of 55.1 in November, the index has remained above the key 50 breakeven threshold for the past eight months, signaling that there are still many construction projects working their way through the pipeline.Wells Fargo Securities

"Architecture firms continue to have plenty of work as they enter the busiest part of the design and construction season," said AIA Chief Economist Kermit Baker, Hon. AIA, PhD. "This is especially true for firms serving the institutional building sector, which reported their strongest growth in billings in several years."
The regional averages were all above the 50 threshold. The South was highest at 55 followed by the West at 51.9, the Northeast at 50.6 and the Midwest at 50.2. The West was the only region that dropped lower than its April ABI reading.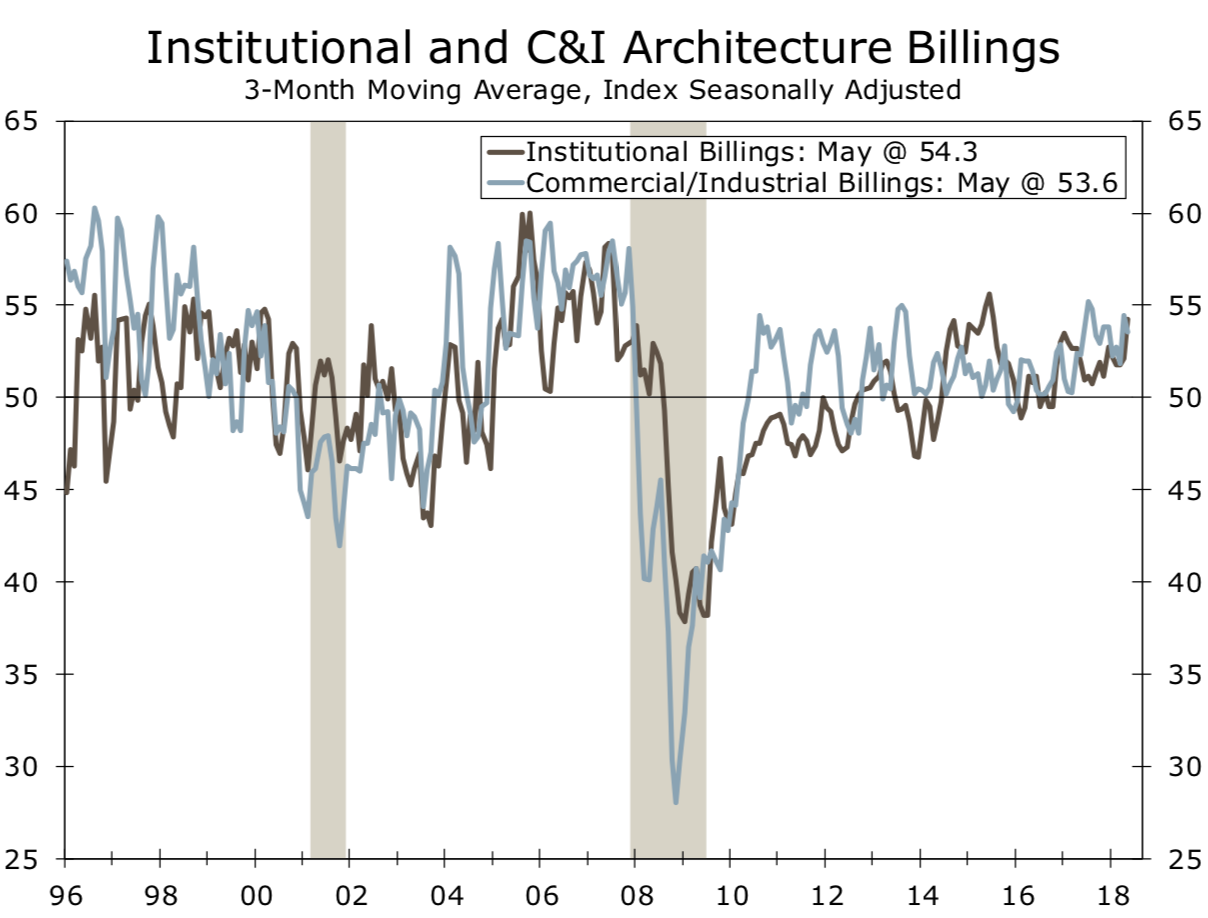 Theinstitutionalindexreached54.3inMay,itsstrongestlevelin three years. The improvement coincides with an improvement in state and local government construction spending.Wells Fargo Securities

By sector, mixed practice was the only sector below 50 at 47.9. The institutional sector came in the highest at 54.3 followed by commercial/industrial at 53.6 and multifamily residential at 52.1. Mixed practice was the only sector that scored lower on the ABI compared to its April reading.

The regional and sector categories above are calculated as a three-month moving average, whereas the national index, design contracts, and inquiries are monthly numbers.