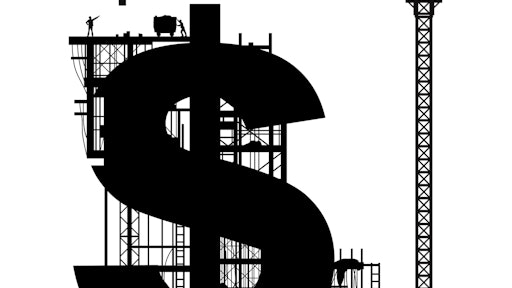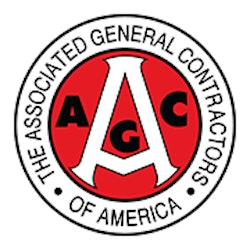 Construction spending reached a record level of $1.309 trillion in May as monthly increases in residential and public investment outweighed a decline in private nonresidential outlays, according to an Associated General Contractors of America analysis of new government data. Association officials warned, however, that continued labor shortages and rising materials costs threaten future growth in demand.
"Public construction spending has increased strongly for the past nine months and is now at the highest level since 2010, led by a rebound in infrastructure investment," said Ken Simonson, the association's chief economist. "Single-family homebuilding is continuing to expand, while multifamily construction has pulled out of a recent slump, but growth in private nonresidential spending remains modest and inconsistent. However, rising materials costs and shortages of qualified workers may stall all types of projects."
Construction spending in May increased 0.4% from the rate in April and 4.5% from the May 2017 rate to $1.309 trillion at a seasonally adjusted annual rate. For the month, public construction spending rose 0.7%, private residential spending increased 0.8%, and private nonresidential construction spending slipped 0.3%. On a year-over-year basis, public construction spending climbed 4.7%, private residential spending grew 6.6%, and private nonresidential construction spending edged up 1.8%.
Among public infrastructure spending categories:
highway and street construction increased 5.8% from May 2017 to May 2018
transportation construction (airports, transit, public rail and ports) rose 9.1%
sewage and waste disposal construction climbed 5.6%
water supply was up 9.4%
conservation and development was up 8.5%
The largest public building construction type — educational construction — inched up 0.4% over the year.
Spending on single-family homebuilding increased 8.2% from May 2017 to May 2018, while multifamily construction spending climbed 4.2% over that period, Simonson noted. He added that private nonresidential spending showed a mixed pattern. The largest category — power construction spending (including oil and gas field and pipeline structures) — dipped 0.7% over 12 months, but the next largest segment — commercial construction (comprising retail, warehouse and farm buildings) had a gain of 2%. Manufacturing construction spending fell by 11% year-over-year, while private office construction spending jumped by 9.7%.
Association officials noted that rapidly rising materials costs, due in part to new and anticipated tariffs, are likely to make some projects unaffordable. In addition, acute shortages of qualified labor may result in project delays, Stephen E. Sandherr, the association's chief executive officer, cautioned. He urged Congress to pass a new Perkins Act that increases funding for career and technical education and for the Trump Administration to avoid a damaging trade war.
"Contractors are struggling to be successful in an environment where there aren't enough workers available to install increasingly expensive construction materials." Sandherr said. "Establishing more construction training programs and finding a more effective way to boost domestic steel and aluminum production will help this industry and the economy to continue expanding."