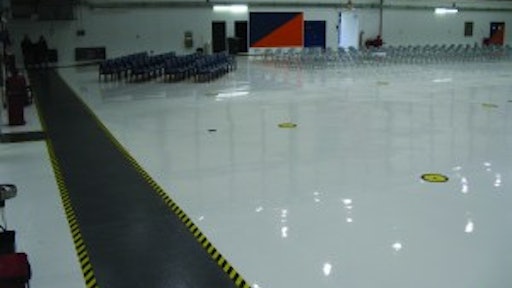 The 25,000-square-foot concrete hangar and office floors of the North Carolina Army National Guard, Flight Operations, Helicopter Battalion, Morrisville, N.C., required considerable restoration for increased chemical resistance, safety, reflectivity, a professional look and long-term durability.
Carolina Coatings, Raleigh, N.C., was the contractor for the job. Specializing in residential and commercial floor coatings, Carolina Coatings had several large flooring jobs under its belt. But the size of the job wasn't the only challenge. The project demanded Carolina Coatings work around constant hangar aircraft movement and persistent foot traffic in the stairs and hallway areas.
The hangar floors were originally coated with a gray epoxy 2 to 3 mils thick, which made the work areas appear very dark and offered very little reflectivity. When a screw or nut was dropped on the floor it was not easy to find. Retrieving all dropped parts is imperative in the Helicopter Battalion because every nut and screw must be accounted for when working on aircraft. Additionally, the helicopters could get seriously damaged by a part falling into critical engine or mechanical machinery. The hallways and stairs were covered with old VCT (Vinyl Composition Tile) with VCT runner covers applied to the stair steps. Much of the VCT was loose and creating a risk of slipping or injury.
As a floor protection issue, the project demanded a high-gloss, reflective floor finish coating that would also guard against the hazardous transmission fluids and motor oils contained in the helicopters. Carolina Coatings chose products from Rhino Linings to get the job done.
Carolina Coatings used an HTC 650 Grinder/Vac system to profile the hangar floor. In the hallways and stairs, the surfaces were cleaned with a glue stripper and acetone and the VCT tile removed. The surfaces were then profiled by hand.
Caroline Coatings chose Rhino 1501 primer (Epoxy), applied at 2 to 4 mils, to cover the entire 25,000-square-foot project because of its bonding ability to existing substrates. They used Rhino FastFloor (Polyaspartic) as the floor coating because it offers a 24 hour return-to-service, UV resistance, high-gloss finish and easily accepts broadcast aggregate. It also provides chemical resistance against Skydrol, motor oils, and hazardous transmission fluids.
To increase the hangar floor's reflectivity, a bright white pigment was added to the Rhino FastFloor coating prior to its application at 10 to 20 mils. While the FastFloor cured, white quartz was broadcast into the helicopter work areas to increase slip resistance and reflectivity. On the stairs, Carolina Coatings sprayed Rhino Extreme (Polyurea), a heavy-traffic, non-skid coating solution, at a 1/16-inch thickness. To increase non-skid characteristics, they broadcast black quartz into the safety walkway areas and then outlined them with black and yellow safety tape. All of these enhancements gave the entire application a professional, reflective, non-skid surface while creating an environment that allowed Guard personnel to safely walk, stage tools and repair the helicopters under OSHA and military QA/Safety regulations.
The final restored floors and stairs featured the chemical resistance, safety, reflectivity, professional look and long-term durability the North Carolina National Guard demanded. And Carolina Coatings accomplished the entire 25,000-square-foot restoration during constant hangar aircraft movement and foot traffic.
Information for this article provided by Rhino Linings.