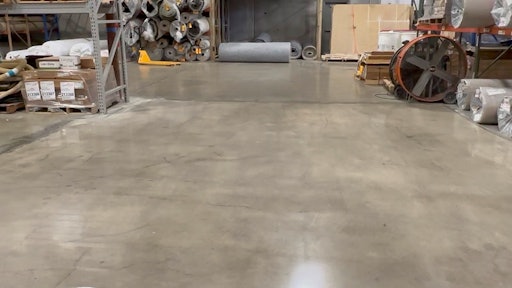 Coval Technologies
When Coval Technologies announced at World of Concrete 2023 that it was introducing a new product, two-year customer Aaron Statser of Business Flooring Specialists in Houston was ready to beta test it. The coating was Coval Polished Concrete Sealer, formulated to improve upon the typical guards currently available for polished concrete.
There were two primary reasons that Statser was excited about the new Coval product. Most polished concrete guards on the market are not favored by installation experts. One, they take away the natural sheen of polished concrete, and two, when applied repeatedly, they tend to become thick and gooey and need to be removed altogether and replaced on the entire floor.
If the installers opt for not applying a sealer, the polished concrete is unprotected. A glass of wine or vinegar-dressed salad spilled in a restaurant, a jar of pickles, beets or Worcestershire sauce dropped and broken in a grocery store, or a spattered cup of coffee or tea, or any of the above in a home on unprotected concrete will cause a lasting stain that requires re-repolishing.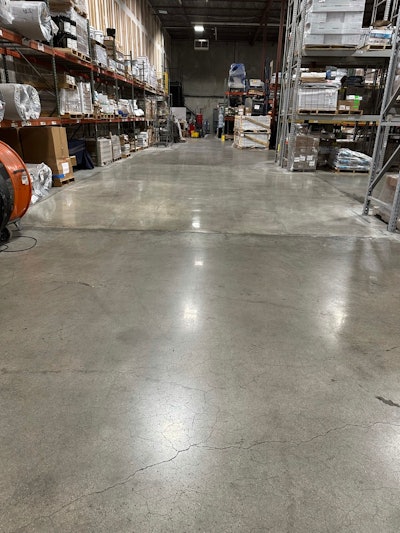 "We wanted to find a coating that was easy to apply but provided higher chemical resistance than current guard products on the market," says Statser. "We also wanted a one coat version that was one and done, without regular reapplications."
Coval Polished Concrete Sealer is applied with an acetone sprayer and then pressed into the concrete with a microfiber mop. The coating is penetrating, rather than sitting on the top of the surface.
"The application is identical to putting down guards, but the performance and clarity is equal or better," says Statser.
Business Flooring Specialists tried the coating on a portion of its polished concrete warehouse floor. The company consistently runs forklifts across the surfaces, carting heavy flooring materials. They are very happy with the performance.
"Coval Polished Concrete Sealer is something easy to maintain, and has good overall aesthetics and functionality," says Statser. "It stays true to the standard of quality across the board of all Coval products."
Coval uses nanotechnology, which provides a unique single component thermoset. This means that all the necessary reactivity is already in the coating, making it much easier to apply than other coatings that must be mixed before application. The covalent bond of Coval, not a traditional mechanical bond, crosslinks through a reaction with moisture in the air. This creates extreme abrasion resistance from the incorporation of inorganic materials into a polymer.
In addition to the abrasion resistance, nanotechnology gives Coval the properties of a surface that is harder than epoxy, with glass-like properties, and is UV and oxidation stable. This hard surface means that oils, liquids, and chemicals cannot penetrate the coating. That makes it easier to clean and keep looking good.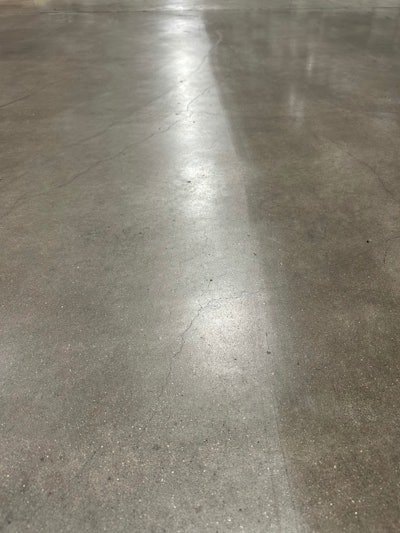 "For the majority of our customers, this product has a high chemical resistance and high scratch resistance, which offers huge benefits," says Statser.
Another benefit of the Coval Polished Concrete Sealer is that once it is applied, it does not require a complete removal of the entire surface because of wear in high traffic areas, typically in 2-4 years. Coval Polished Concrete Sealer will adhere to the previously laid Coval easily, without resurfacing the entire space.
Lastly, because food, oils and chemicals do not stick to the surface of Coval Polished Concrete sealer, it is much easier to clean. This is another part of the sustainability of Coval coatings. The three sustainability factors of Coval are: easy to apply, easy to clean, and easy to refurbish, all taking significantly less time and energy to extend the lifecycle of the polished concrete.
Business Flooring Specialists has specified Coval Polished Concrete Sealer on at least one new client floor, and hopes to install many more in the future, as soon as the product is released.
"Coval offers great tech support and has always been responsive with the best solutions and practices," says Statser. "Happy to do business with them."