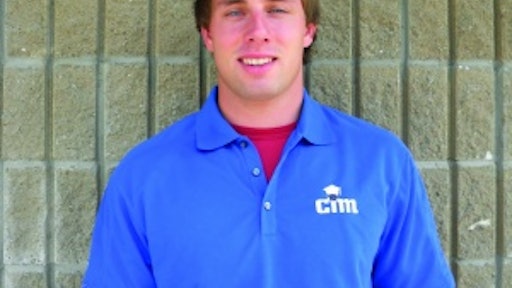 The 2009 scholarship recipients of the American Society of Concrete Contractors (ASCC) Foundation received $5,000 and complimentary attendance to the recent ASCC Annual Conference. To be eligible for the scholarships, students must be enrolled full time at Middle Tennessee State University (MTSU), have a concentration in concrete contracting and maintain a minimum 2.5 GPA. The three students, all seniors in the Concrete Industry Management (CIM) Program at MTSU, are Damon Pulliam, Devin Leach and Amanda Reece.
The CIM Program at MTSU is one of five in the country (visit www.ConcreteDegree.com). The program is supported by many industry organizations including the ASCC, which has pledged $25,000 per year to the program for the next five years in addition to its scholarships. Many ASCC members employ CIM graduates and offer students summer internships.
Pulliam interned in the Memphis, Tenn., office of engineering, consulting and testing firm Professional Service Industries; Leach interned with ASCC member company Albanelli Cement Contractors, Livonia, Mich.; and Reece works at ASCC member company Stan Reece Concrete, Smyrna, Tenn.
Concrete Contractor: What are you studying in relation to concrete contracting?
Damon Pulliam: The CIM program has two concentration paths; Concrete Contracting (CoCo) and Production, Sales, and Service (PSS). I have chosen to concentrate on concrete contracting. Listed below are the CoCo specific classes: Site Planning, Layout, and Preparation; Formwork, Design, and Computerized Drafting; Concrete Project Estimating; Design and Construction Issues; Concrete Contracting Personnel Management; Field Management and Supervision; Industrial Safety; and Technical Problems Management and Soft Skills.
All CIM students are also required to minor in business administration as part of a Bachelor of Science degree. This unique program offers hands-on experience for students in many ways. Students are required two concrete lab classes and have many various opportunities to participate in small concrete projects that involve grading, formwork, pouring and finishing. A 400-hour industry related internship is also required before graduation.
Devin Leach: Our curriculum involves many aspects of the contracting profession. Last semester I had a course on estimating and used Timberline to perform take-offs. I also had a class on formwork design. This semester I am currently in a class for site layout and surveying. I have also been taking a class on field management and supervision this semester. We have been working on a project where we estimated, bid and kept track of a concrete paving project including daily superintendent logs and job costing.
Amanda Reece: I am following the Contracting path of the CIM program. We study Problems & Solution with Concrete, Field Management, Construction Methods, Trends, and Estimating to name a few of our classes.
CC: What kind of position would you like to hold after graduation?
DP: Upon graduation I would like to assume a starting position as a project/field engineer, assistant superintendent, or assistant estimator. A position such as one of these will allow me to gain useful field experience and knowledge surrounding a project from start to finish. I look forward to learning the construction process from the ground up.
DL: When I graduate I would like to eventually work in project management/construction management with a company. I would also be interested in estimating.
AR: I plan on attending graduate school after I graduate in May. I will probably also pursue a job as a project manager for a concrete contracting company.
CC: What makes the concrete industry an appealing choice for your career?
DP: The concrete industry is a very diverse industry. I have chosen to pursue a career path in concrete contracting because I enjoy the job atmosphere surrounding construction projects. Much of today's infrastructure construction requires concrete in some shape or form. I enjoy construction and the work involved with the day-to-day activity. The commercial sector of the concrete industry is the most attractive to me because of the large scale and complicity of the projects.
DL: There are two reasons the concrete industry is very appealing to me. The first is that you are working with the strongest and longest lasting building material in the world. I will have the opportunities to build structures that will stand the test of time and be around for many years to come. The second reason is that every day is different. There is always a new challenge. I enjoy new challenges and variation. I would never be happy if I did the same thing day in and day out. Concrete construction provides me with that opportunity.
AR: I currently work for my father's concrete placement company (Stan Reece Concrete). I have always been interested in planning and management, as well as working in an environment that is constantly changing. The construction industry gives me a chance to do all of these things. I love that we build tangible structures. It gives me a sense of accomplishment to see a project through from start to finish, and there is a constant fulfillment that comes from driving through town and being able to point out buildings and sidewalks that you had a hand in creating.
CC: What future advancements and trends do you see developing in the concrete industry?
DP: Providing sustainable business practices in order to produce LEED-accredited projects is a huge topic that is very important to the future of the industry. Contractors need to be aware of this type of building practice. LEED (the U.S. Green Building Council's Leadership in Energy and Environmental Design green building rating system) projects receive greater attention and seem to be most common in areas of the world that have the high emission standards. As we move into the future, I think building efforts to create green, sustainable projects that create a small environmental footprint will be in demand. Companies that have already taken the time to exert effort into becoming green builders will excel in future markets due to experience and know-how. This is an important issue and will play a big role in the future of the industry.
DL: I think the most important trend in the industry, and also for me and my fellow students, will be going green and LEED certifications. There is going to be a greater responsibility for us to become more conscious of our waste on jobsites and using recyclable materials in our concrete such as slag and fly ash. We will have to make strides in promoting concrete as a green product and follow the trends of environmentally sound construction
AR: I think the biggest upcoming trend in the construction industry is green building. Concrete is an excellent green alternative to asphalt, and with the growing popularity of ICF (insulating concrete forms) houses and pervious concrete people are really starting to explore the plethora of environmental benefits concrete has to offer. Affordability and speed of placement are the main areas that concrete can improve to make sure that we are the first choice in green building materials.