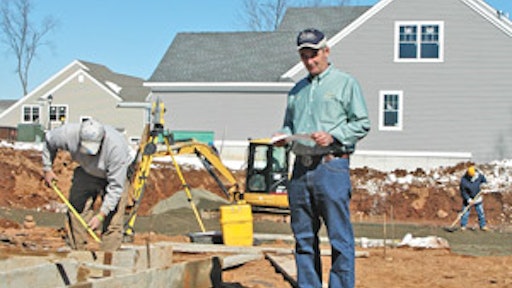 Dennis Purinton of Purinton Builders, Inc. in East Granby, Conn., has built a successful foundation, site work and waterproofing business by taking advantage of opportunities to expand his company and implement new technologies to improve quality and efficiency on the work site. Always one to stay on the industry's cutting edge and share his knowledge and experiences with other contractors, his work and commitment haven't gone unnoticed - the Concrete Foundations Association (CFA) named him the 2007 Contractor of the Year. The honor is much appreciated by Purinton, who credits the CFA with introducing him to the technologies he has used to improve his business.
"I used to think I couldn't afford to take time off from work to attend association events, but I've learned that I can't afford to not go," Purinton says. "Because of the things you can learn, I think anyone could make more money in the long run attending one seminar at the CFA summer meeting than they could if they stayed at home and worked."
Success through expansion
Purinton started out in the construction business in 1979 as co-owner of a general contracting company. As a G.C., Purinton had trouble finding someone to do foundations for him on time at the level of quality he wanted. Realizing this need in the area, Purinton broke off from his former partner in 1984, bought a set of forms and started Purinton Builders, Inc.
A few years later, frustrated by the difficulty of getting a basement dug on time and properly, Purinton added site work to his lineup of services. Not long after that, Purinton further expanded his business by adding waterproofing services. "We were doing our own site work and foundations, and there was a little niche in the middle that I didn't control. I wanted to take control of the scheduling," Purinton says, "and there was the added money source that waterproofing offered."
Purinton says that being able to control the scheduling as the site work, foundation and waterproofing contractor, he can get a job done a couple of days quicker than if he were just the foundation contractor. This saves his customers time and money in the long run, and saves Purinton the headaches that can often accompany trying to coordinate schedules of several subcontractors. "There are a lot of times when we take on a project and have been hired to do only one aspect, but in the end we pick up the other areas too," he says.
A move to aluminum
Purinton isn't afraid to make changes in his company in order to achieve efficiency and deliver a better product. He was one of the first contractors in Connecticut to have boom trucks. Approximately seven years ago, Purinton saw an opportunity to set his business apart from other foundation contractors in the area again by buying a set of 9-ft. aluminum forms
He says the first year after the transition from wood was a little rough - they didn't lose any money, but they didn't expand their market either. Once the public saw the 9-ft. walls he was turning out, however, they started to demand them. "We were instrumental in creating the 9-ft.-high basement market in the area," he says.
Purinton finds the aluminum forms easier to maintain with a stronger resale value, and although he still uses the same number of employees on the jobsite with the aluminum forms, he says the speed and quality of the work is increased. Purinton now owns four sets of aluminum forms from Western Forms.
Gadgets galore
Purinton specializes in complex foundation work, often taking on high-end residential home projects that demand complex site work and intricate foundations. On average, his foundation pours, including the footings, total about 175 yds. After attending a CFA seminar on footing layout, Purinton was introduced to a technology to help him better perform the complicated foundations he frequently takes on and in 2003 purchased a Trimble Robotic Total Station.
"The system allows us to do layout work with one less person," he says. "It gives us accuracy, speed and sets us one step ahead of our competition." Purinton says it took only 18 months for him to start seeing returns on this $35,000 investment.
Another techy gadget Purinton recently purchased was an AccuGrade GPS grade control system for his Caterpillar 315 excavator. He believes once engineers embrace GPS grade control it will become widespread in the residential market and lead to stakeless technology in the industry. "The GPS grade control system is a technology that's coming to the residential market. It's being required on larger commercial jobs; it just hasn't made its way down the system yet. The change in technology will happen, and we made sure we had that capability to expand when it arrives," he says.
Recently, Purinton has been working with his ready-mix supplier to use another new technology introduced to him by the CFA. It's a system that allows him to test the in-place strength of concrete as opposed to relying solely on test cylinders. The Con-Cure on-site concrete maturity testing system uses sensors that are embedded in a poured wall and is connected by wires to a reusable external meter that tracks the heat signature concrete gives off during the curing process. The data collected by the system can be downloaded to a computer and analyzed. The system has helped Purinton and his ready-mix supplier better examine the curing process of some of the newer mixes that replace a portion of the Portland cement with fly ash or blast furnace slag. This has allowed Purinton to see exactly what's going on with a mix and allows his ready-mix supplier to adjust a mix to achieve better results.
"This system is going to change the industry," Purinton says. "And what's going to drive that is construction scheduling. Today, no one wants to hear how long it takes to dig and place a foundation. With limited time frames, my customers want to start completing jobs as quickly as possible. This system can better predict when a wall has met a certain strength so you know exactly when you can continue with a project or go on to the next floor."
Green building
A quickly growing trend Purinton sees in the industry is the demand for more energy-efficient structures and "green" buildings. Purinton has recently gotten involved with insulated concrete basement walls and the concrete home market. He offers an insulated wall option with Mar-Flex's Shockwave, a drainage system that works in conjunction with the company's waterproofing options and offers insulating R-value to the walls. Purinton also offers customers insulation options with the THERMOMASS poured-in-place insulation system, which sandwiches a piece of Styrofoam between two layers of concrete, and the Comfort Wall System from Western Forms, which allows a contractor to integrate a piece of foam on the inside, outside or both sides of the poured-in-place concrete walls. Purinton says he offers multiple options because the homeowners' desired use of the finished space determines where the wall should be insulated.
Purinton says one of the factors driving this trend toward "lower-level living" is homeowners' wish to better utilize the square footage of their new homes, making basements comfortable living spaces or a place for a home office as the number of people working from home rises.
It's been a slow start for Purinton's builder customers to jump on the insulated walls without consumer demand, so Purinton decided to promote poured-in-place insulated wall systems at a local home show earlier this year. His booth, which was constructed of aluminum forms showcasing the different insulation systems, brought in heavy traffic throughout the two and a half days of the show. "There was a tremendous amount of interest in concrete homes and insulated basements," he says. "I think consumer demand is going to drive the concrete industry toward green technology, and at some point it will be government mandated."
A bright future
Despite 90 percent of his work coming from the residential arena - high-end, single-family homes and 50+ housing developments - Purinton saw a 10 percent increase in business in 2006 over the previous year in light of the downturn in the residential market. Purinton credits his professionalism and reputation for this success, and the fact that he tries to stay one step ahead of his competition. "We pride ourselves on being first in our market to utilize new technologies," he says.
All Purinton Builders bids go out with a full-color company brochure and literature on any products that Purinton plans to use on a project. "If a customer gives me a deadline for a bid, I'll go in three or four days earlier and present the bid in person. I want to sell my company and our products, not a price," he says.
Purinton sees his company heading toward continuous growth in the future, and is in the process of transferring partial ownership to his son, Michael, who has been an integral part of Purinton Builders for 10 years. The close-knit attitude that Purinton gives his family business, which also includes his wife, Gayl, as office manager, is reflected in the way Purinton treats his employees and gives back to his community. Last year, Purinton Builders teamed with one of its ready-mix suppliers, TilCon Connecticut, Inc., to build six foundations for the local Habitat for Humanity chapter. This is a volunteer project Purinton plans to continue with in the future, and within a year hopes to supply Habitat for Humanity with an energy-efficient concrete home.
Purinton believes strongly in the CFA's effort to educate concrete contractors across the country. He has learned a lot from the organization that has helped him improve his business, and Purinton is looking forward to sharing his knowledge and experiences with other contractors in the industry. He would love to assist more New England contractors in becoming active in the CFA. "The quality of concrete workmanship increases proportionately to someone's knowledge," he says, "and anything you can do to bring up the quality of workmanship is good for the industry in general."
At a Glance
Purinton Builders, Inc.
East Granby, Conn.
Founded: 1984
Employees: 12
Gross annual sales: $2-$3 million
Services offered: Foundations, site work, waterproofing, insulated concrete walls and concrete homes
Key products and equipment: Aluminum forms and the Comfort Wall system from Western Forms; Composite Technologies Corporation's THERMOMASS insulation; Mar-Flex waterproofing and basement products; Exaktime JobClock; Con-Cure maturity testing system; Trimble Robotic Total Station; CAT earthmoving equipment; PM Cranes from Cranes and Equipment; GM and Mack trucks.