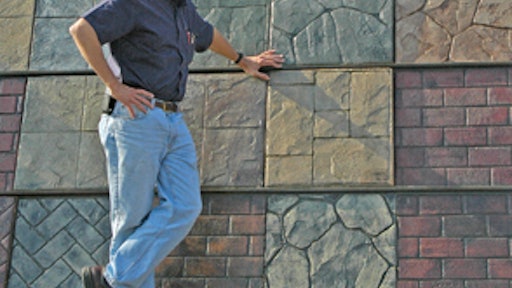 L.L. Geans may not be the biggest concrete contractor around, but with a systems approach to management it may be one of the best run. Over the last 20 years, company president Rocky Geans has focused on making the company successful with an organization that would be envied by much larger enterprises.
For Geans, there was no single "a-ha" moment where he decided to create systems; rather, they arose out of necessity as he tried to grow the company from the small four-man company he took over from his father.
"It's allowed the business to grow and run beyond what I can reach," Geans says. "The processes and the company can continue without me."
For many contractors, learning to let go is the biggest hindrance to growth. While they want to get bigger, they don't want to lose control of the company. Systems make it possible to maintain control without being on every job, everyday, Geans says.
"When there are problems, they pop up sooner when you have systems," he says.
For example, several years ago Geans had some employees doing side work. To complete these side projects, the employees were using the company's equipment, ordering concrete and materials and billing it to the company, and doing it on company time, all adding up to big hits to the bottom line.
"Now we have a situation where it'd be very difficult for that to happen again because of our systems and job costing," he says.
Every job is now carefully tracked and the foreman running the job is responsible for making sure it stays on budget. If extra concrete is needed, for example, they need to be able to explain why.
"Now they understand we have budgets and we compare the actual cost to the budget," Geans says. "Everything is structured right down the line."
Efficiency
Every system has been developed as a way to make the company and its employees more efficient.
"People need structure and systems give structure," Geans says. "It means that the employees in the field don't have to think about everything because the checklist is already there."
One of the first systems Geans developed was a load list for the foremen to check at the beginning of the day. The list included everything that was not a permanent part of the truck – such as tools, forms, rebar, etc. – to cut down on return trips to the shop.
"Before this, they would go out on a job and realize they were missing something," he says. "Now they're not sending guys back to pick up one tool."
After studying how his employees were spending their time, Geans took it a step further by hiring a yardman to manage all of the trucks and equipment.
When the trucks come in for the day, he is responsible for unloading them and getting all the equipment and supplies ready for the next day. He loads it using a checklist developed for each specific job by the project manager and foreman. When the foremen come in, now all they have to do is jump in their truck and drive to the jobsite.
"I realized I was paying these skilled concrete workers to load and unload their trucks, when they should be out on the job," Geans says. "There's a cost to do it, but the savings we have in time just about pays his salary."
Hiring the yardman has also helped to account for materials and equipment, ensuring that all items are costed to the appropriate job. Because he is the only one accessing the materials and equipment from the storage area, it makes it very difficult for someone to take them without a record of it.
Inside the garage, every piece of equipment, down to spark plugs and oil filters, has a specific place on the shelf labeled for it. That way, one look allows Geans or the yardman to see if something is missing or needs to be restocked. That organization carries over into the office, where those supplies are similarly labeled and shelved.
In the meeting room, a large calendar shows several months, with a color-coded system of sticky notes to show what job a crew is assigned to at what time, what type of work they'll be doing and when people will be on vacation. The idea is to make sure the managers can know at a glance where they have holes in the schedule and where they may be too busy.
Geans has given several seminars on his organization system, and he admits that contractors are often skeptical.
"They think they don't have time, or that they're not smart enough, to do this," he says. "The problem is those of us who work with our hands all day don't realize the power of paperwork."
One fact that Geans likes to stress is that he didn't finish high school. Instead he dropped out at 17 to join the Marine Corps.
"I'm just like a lot of other guys out there," he says. "I know concrete, but I didn't really know anything about business when I got started."
Geans is the first to admit he made a lot of mistakes before he realized that he needed to teach himself how to run his business better.
"I didn't understand job costs and overhead," he says. "It's difficult to grow without knowing that. We're so ignorant – we figure, 'I've got concrete, I've got labor, charge them an extra $100 and I made $100.'"
In 1978, the company lost a significant amount of money. It took six years to get out of that debt, Geans says.
"After that, I decided I was going to know what was going on," he says. "I started educating myself, reading the financial statements, really working to understand the business side, and finally the light came on."
Since then, he has taken courses at the local college, worked with financial advisers and read extensively to learn more about business management and other topics, such as systems, that help him run the business more efficiently.
Finding the right people
The company has checklists and forms for almost everything it does. The extra paperwork saves time in the long run, but can be difficult for some employees to handle.
"When we started, it was a constant struggle," Geans says. "Now, with the good people we have, they see how well it works and we don't have a problem."
As systems have become a more important part of the company, hiring people who want that kind of structure has become key to success.
"It helps when a person is hired that they see how organized things are," he says. "It helps them buy into the culture, because they see that it is already working."
If somebody has a problem with the systems, Geans will talk to him about it and explaining why it is important to do things that way. If he still is not willing to adapt after that, Geans has learned not to be afraid to encourage him to move on.
"Years ago, I tried to be a nice guy," he says. "If somebody screwed up, the first 19 times, I'd say, 'It's OK.' Then, the 20th time, I'd blow-up at him. Everybody remembered that 20th time, not the 19 times I was nice.
"Now, if we have a people problem, we talk with them about it and if it doesn't improve, we let them go. We hire slow and fire fast. Otherwise, it drags down the other good people."
While some foremen grumble a little about the paperwork, most of them say they have gotten used to it and realize the benefit. The foremen are also involved in updating the systems, which have to remain flexible to be successful.
"We try to bring everyone in on the discussion," Geans says. "I don't want to be the guy dictating to them. The men in the field are smart. Sometimes they're just not sure how to convey their thoughts."
Letting go
Developing systems has also given Geans the ability to begin to take a step back from the business, but remain confident that it can run smoothly.
He is traveling more now to deliver seminars and share his experience with other contractors at workshops and events like the ASCC Fall Conference and World of Concrete.
"I'm getting more involved in speaking and consulting, and people here are slowly taking more responsibility," he says. "The dream is to see this team working so well that they are each extremely successful, and they don't need me here to make that happen. I want to help each and every person grow to the potential they have and desire."
Rocky Geans will be delivering a seminar at the American Society of Concrete Contractors' Fall Conference in Milwaukee, "Organizing Your Business 'The Rocky Way.'" For more information, visit www.llgeans.com or call (866) 788-2722.