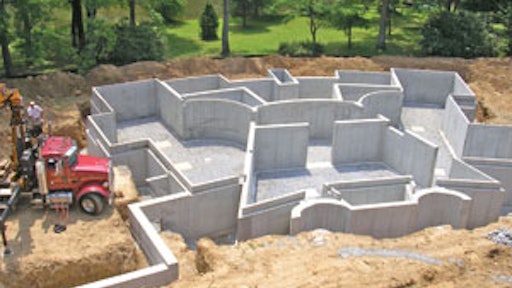 It was a foundation with so many twists and turns that the crews who worked on it named it "The Dragon House."
The structure, a 5,964-sq.-ft. basement in Easton Township, Pa., was selected by the Concrete Foundations Association as the Basement of the Year. With a multitude of corners, T-walls and Y-Sections, the basement stood out from the average residential foundation.
"It seemed like every corner we came to brought on a new challenge," says Jerry Balmer, president of Balmer Brothers Concrete Work, Inc. of Akron, Pa. "Most of the time crews were transitioning curved into straight walls and sometimes curved into curved."
The residence has 995 total linear ft. of wall, wall heights ranging from 3 to 9 ft. and wall thicknesses of 12 to 16 in. Radius measurements range from 4 ft. 2 in. to 91 ft. 8 1/2 in. The project used 345 yds. of concrete in the walls and 27,860 linear ft. of No. 4 matt steel at 2 ft. on center.
Adding to the complexity of the project were stone ledges running around the foundation, ranging from 1 to 3 ft. wide by 6 in. deep. To achieve the curves, ledges and sharp corners required a complex network of double-stacked forms, spreaders, props and vice grips.
The project is probably the most complex the company has ever completed, Balmer says.
This is the third time Balmer Brothers has taken home Basement of the Year honors, also winning in 2001 and 2005. Winners are selected by a vote of contractors at the World of Concrete and recognized at the CFA Annual Summer meeting, held in Wisconsin Dells, Wis.
Second place in this year's competition was a project in Kansas City, Mo., submitted by Louisburg Foundation. Third place was awarded to Marone Contractors, Inc., of Thorofare, N.J. This year's contest was the largest in CFA history.
For more information on the CFA, visit www.cfawalls.org or call (319) 895-6940.
Have a good project for a Closing Concept? Contact editor Jonathan Sweet at Jonathan.Sweet@cygnusb2b.com or (800) 547-7407, ext. 1321.